Global Food Security Grant for Fungi-Based Building Materials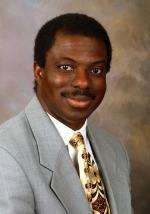 Professor Vincent Amanor-Boadu along with Jonathan Dessi-Olive, architecture, and Richard Todd, plant pathology, secured a Global Food Systems grant from Kansas State University to investigate the technical and economic feasibility of fungi-based building materials as sustainable development opportunity in Rural Kansas.
"We are investigating renewable energy (wind and solar) for electricity, which will be used to produce ammonia from atmospheric nitrogen for use as fertilizer and energy storage and treat water for improved water conservation in arid areas. My role is to develop a system dynamic decision support system for the alternative technological solutions that allows small town and rural (STAR) communities' leaders to select the appropriate scale and scope of the technologies to achieve their socio-economic objectives," Amanor-Boadu said.
More than ever, the building construction industry relies on materials that are neither renewable nor reusable – often mined and manufactured with energy-intensive processes. New building materials are needed to build homes that can be sourced and produced locally to create jobs and support circular material economies. Non-conventional materials such as mycelium-based composites ("mycocomposites") that use byproducts from agriculture and forestry industries have emerged as a commercially viable renewable building material. The growth forms of mycelia used in myco-composites have lent themselves to applications including packaging materials, acoustical panels, and composite core panels to replace petro-chemical foam and fiberglass. How modified growth forms of mycelia could produce other desirable material properties has not been widely studied. Myco-composite and biopolymer materials are understood to be compostable, but the manner in which these materials degrade may be useful and is unknown. Furthermore, no current building construction or fabrication systems exist in which materials are meant to be reclaimed.
"Although renewable energy resources, such as wind and solar power, have brought some economic growth to Kansas, these industries import the majority of their inputs, and hence do not created enough jobs opportunities to expand the state's employment base. By identifying new bio-based building materials developed from better management of food and agricultural byproducts, there is opportunity to create a new sustainable material industry in Kansas that would create new local jobs and generate export revenues."
This pilot project will assess the technical and economic feasibilities of novel applications of fungi and agricultural byproducts to create this bio-based building material industry in Kansas. The long-term goal of the project is to provide alternative materials for design and construction that fit in a sustainable circular economy, reducing the adverse environmental effects of current materials.