The Department of Agricultural Economics provides first-class education, research and resources to meet the demand of dynamic global markets.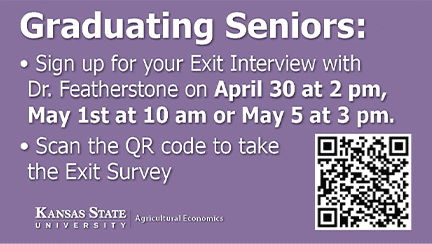 Remembering Dr. Barry Flinchbaugh
History records Barry Flinchbaugh's legacy as a national name in agricultural policy and economics. Flinchbaugh, whose career in agricultural policy at Kansas State University spanned nearly a half-century, died on Nov. 2, 2020. The longtime K-State professor leaves a lasting impact on university and the agriculture industry. Learn more about his life and legacy: https://www.k-state.com/news/flinchbaugh.php
Undergraduate Success
Our students enjoy a 98% job placement rate after graduation! The talented faculty and staff work hard to bring the best real world experience into the classroom.
Extension and Outreach
Department-wide
Events