Spring Commencement 2021
After not having any commencement ceremonies last year, we were excited to be able to celebrate our graduates in May! All together, the Agricultural Economics Department graduated 90 students during the spring.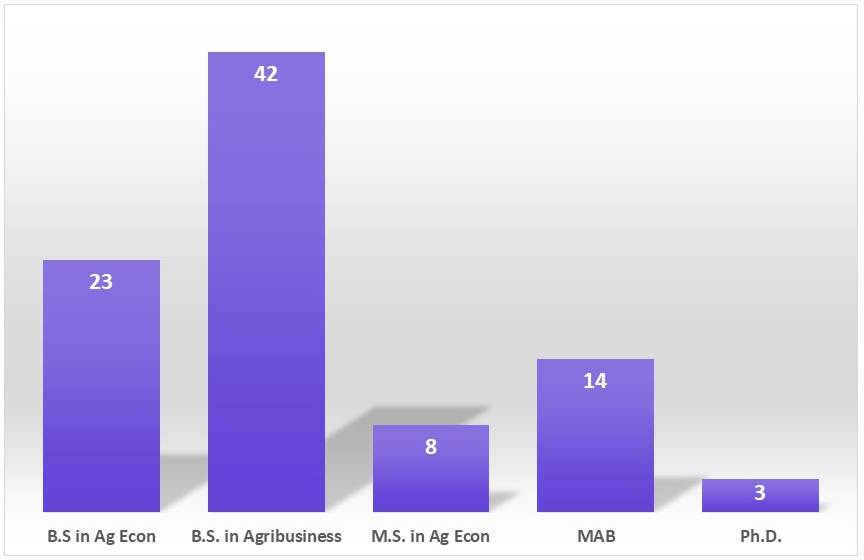 The department was also pleased that Ag Econ Ph.D. candidate, Hannah Shear, was selected to be the Graduate School Commencement speaker.
"I was approached by Vice Provost/Dean Claudia Petrescu, and asked if I would consider serving as the Graduate School's commencement speaker. She said that as a 'new' arrival on campus she had asked around and she had heard my name from several people in regards to being an active and engaged graduate student on campus," Shear said. "I was honored to be asked to speak, but was also unsure if I could manage to say anything meaningful or memorable.
"After the past year-and-a-half, many of the graduate students had spent a large portion of their studies in a less than ideal situation. Some students had lost loved ones, jobs, had technology struggles, and more. So I wanted to be sure to recognize that, but I didn't want the speech to be centered around the pandemic. So I chose to encourage our graduates to have grace over success.
"In a combined graduation (Spring 2020, Fall 2020 and Spring 2021) there were more than 700 graduates, so I kept it short, and hopefully sweet," she said.
Here's the speech she shared with graduates:
Grace Over Success
Congratulations. You did it! You have successfully achieved a graduate degree. You have achieved a level of education that a very small percentage of the world population reaches. You have succeeded in your academic endeavors and you deserve to be recognized for all of your hard work. That hard work may have felt insurmountable given all that has happened over the course of the past year. But you persevered. You succeeded.
Success is generally defined as "the accomplishment of an aim or purpose". For each of you, your short-term aim was to achieve a graduate degree. Thus, as a participant in this graduation, you are, by definition, a success. As you each move forward you will define for yourself a new aim or purpose. I know you will take the knowledge you have gained in your time here at Kansas State University and leverage it to be successful yet again.
So you can call yourself resilient, persistent, and successful as a graduate of Kansas State University. But I want to encourage you, as you leave this place, to consider placing grace before success.
Grace can be defined as "courteous goodwill". I implore you all, as members of the K-State family to always put grace before success. Be gracious in your words, actions, deeds, and choices. Pick up the piece of litter on the ground, return the shopping cart to the stall, comfort someone in need, nominate someone for an award, celebrate another's achievement, send a note to a loved one, be free with forgiveness and stingy with anger. Be harder on yourself and easier on others. Respect one another and our differences, hold the elevator, volunteer, beautify your surroundings.
If you make your aim or purpose to do all things with grace, then you will without a doubt be successful. So as you leave here today to celebrate, go with pride, go with the knowledge that you are forever a part of the K-State family, and go with grace.
Congratulations graduates.