CRMER Announces 2021 Fellows
The Kansas State University Center for Risk Management Education and Research announces its ninth class of student fellows. CRMER brings together students, faculty and industry to advance risk management skills and knowledge. The multi-disciplinary program is committed to identifying, maximizing, mitigating and recognizing how risk impacts our global society.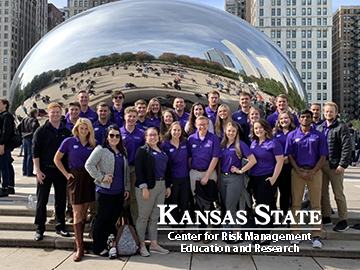 A group of 51 students were selected from a competitive pool of applicants to participate in the risk management student fellowship. Of the 51 students selected, 15 were from the Agricultural Economics Department.
Amber Oerly, Agricultural Economics, Policy Specialty, Booneville, MO
Courtney Sherbert, Agribusiness, Morganville, KS
Dalton Springer, Agricultural Economics, Pre-Law Specialty, Waller, TX
Evan Rosenow, Agricultural Economics, Clay Center, KS
John Mayer, Agricultural Economics, Aledo, TX
Kaleb Guilfoyle, Agribusiness, Fort Scott, KS
Kristopher Wagner, Agricultural Economics, Satanta, KS
Lauren Benavidez, Agribusiness, Esteli, Nicaragua
Matthias Brouk, Agricultural Economics, Finance Specialty, Manhattan, KS
Michaela Forst, Agricultural Economics & Global Food Systems Leadership, Marysville, KS
Molly Soyez, Agricultural Economics, Elmdale, KS
Sage Collins, Agricultural Economics & Global Food Systems Leadership, Chanute, KS
Shymel Townes, Agricultural Economics, Finance Specialty, Wichita, KS
Tanner Ukele, Agribusiness, Finance Specialty, Sabetha, KS
Walker Clawson, Agricultural Economics & Animal Sciences, Meade, KS
"We welcome the largest group of student fellows in program history into CRMER," said Ted Schroeder, director of the center and professor in the Department of Agricultural Economics. "We look forward to working with this talented group of students as they engage in a hands-on educational experience, fully integrated with faculty and industry partners from several fields."
The new student fellows begin their program in August 2021.