Randy Stoecker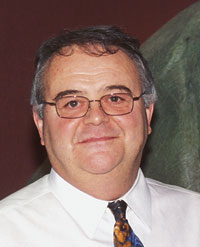 Randy Stoecker is president of Murphy-Brown Western Operations, a division of Smithfield Foods. He worked for PIC prior to joining the Murphy team in North Carolina as vice president of production in 1987. Currently, Randy oversees pork production systems in nine states and more than 3,000 employees. He resides in Ames, Iowa with his wife Gwen, and is the father of six children. Randy grew up on a farm near Oakley, Kansas and is a 1970 graduate of the Department of Agricultural Economics.
A Lifetime of Leadership:
Article on Randy Stoecker from Ag Exchange 2007
On Interstate 80, one can see for miles until Iowa's cropland meets the clear blue at the horizon. Like this hazy line of landscape and sky, Randy Stoecker, president of Western Operations for Murphy-Brown, LLC., a division of Smithfield Foods, has spent more than 30 years looking intently at opportunities awaiting the pork industry. Leading with vision, Stoecker has helped build the largest pork processing company in the world. Throughout his career, this alumus who overseas 3,000 employees and pork production crossing nine states, has synergized his talents and strengths into success.
Raised the son of a hard-working, community-focused, Kansas farm family, Stoecker came to K-State in 1966 and majored in agricultural economics. His interest in farm policy quickly endeared him to a fellow Alpha Gamma Rho Fraternity pledge brother, Loren Kruse. "We loved talking about farming, particularly in contrasting Kansas with my home state of Iowa," Kruse said. Even then Kruse remembers Stoecker's leadership abilities.
"I'll never forget something he told me back in college after he was elected president of Interfraternity Council: 'If an organization is worth belonging to, it is worth being the leader of.' Kruse recalled. "He loves to think big, and he challenges others to think the same way. He has many natural gifts for leadership that he has built upon through hard work."
According to Kruse, editor-in-chief of Successful Farming magazine, one of Stoecker's strengths is his great curiosity about diverse subjects.
"Randy is always learning and applying what he learns to improve. He likes to try out new ideas and new ways." Kruse said.
Exploring and implementing innovations are a hallmark of Stoecker's career. In the early '70s, after gaining experience in banking and sales, Stoecker went to work for Yeager and Sullivan, the largest pork producer in the United States at that time. He was assigned to study large scale confinement pig production in Europe.
"As I looked at the relative strength and performance of the U.S. pig industry in 1975 relative to England and Northern Europe, I was convinced there was a big opportunity waiting if we could adapt the changes that normally happen with financial pressure," Stoecker said. In 1979 Stoecker took a position as general manager of Pig Improvement Company (PIC) focusing on breeding sows with high productivity and his innovations were being noticed across the industry.
Betsy Freese, former Livestock Editor for Successful Farming, covered the industry throughout that time.
"By the early '80s the pork industry was poised for change. The idea of moving toward large scale production was especially welcome in the east. North Carolina was emerging as an aggressive state as far as growth in the hog industry, and I was sent to cover it," Freese said. "They were doing some unusually aggressive things, specifically with contract production. Wendell Murphy of Murphy Farms was behind that, and it wasn't long before he wanted Stoecker to join his team."
In 1987 Stoecker took on production responsibilities with Murphy Farms. In ten years they grew to be the largest swine production company in the U.S.
"Murphy Farms brought Randy out from North Carolina to run their expansion in Iowa. Contract feeding at that time in Iowa was unheard of, there was a lot of controversy. He basically brought the North Carolina system of contract feeding to the Midwest and other people followed," Freese said. "He's the genius behind the whole system of what is going on in the Midwest concerning the contract feeding of hogs. He's managed the whole thing."
In 2000 Murphy Farms was acquired by Smithfield. Stoecker was asked to lead the Western Operations, his current responsibility. Freese recalls, "The scope and scale of the industry changed rapidly. Surviving through that kind of rapid growth was the challenge facing businesses then. In 20 years the industry went from many small farms to 20 to 50 large farms. Smithfield going from nothing to over a million sows."
Stoecker's success was unsurprising to Freese. "Randy's a good judge of people, he doesn't have much to fear. He's not afraid to try new things, he's respected and he's usually right. He just has great instincts. He's intelligent that goes without saying," said Freese.
Although respected and revered by many throughout the pork industry, Stoecker is the first to humbly credit strong values, hard work, and good people for his career success.
"There have been several ideas I've held onto that have guided me in my career. I really don't believe we spend enough time early on figuring out who we are. Do we analyze our real skills and passion; looking at where the opportunities are? I've learned I'm a curious person, interested in the front end of things. I've been good at seeing opportunities early and creating enough interest and understanding of their value to have people pursue them," Stoecker said. "I learned early in my career that once an idea was rolling I lost interest in it, I was already looking for the next opportunity. So, I pursued positions where this skill would be most effective."
Another key value Stoecker feels is important is the value of work.
"I believe learning to enjoy work is a wonderful trait that parents can pass on to children. If you have it, you need to thank those that taught it to you. If you don't have it, you need to find it. The first step is to find something you enjoy that doesn't feel like work. We all invest a tremendous amount of our adult lives focused on whatever we've chosen as a career, so it's sad when you see someone doing something they don't enjoy," he said. Stoecker regularly speaks with college students to pass on wisdom he's learned. He encourages students to be thoughtful as they pursue their first job.
"I tell students to pick their supervisor and not the company. The first five years they're out of college will either launch them into a career or find them stuck doing activities they don't enjoy. If they can get excited about working for someone, and they're convinced that person has their future in focus, they will find themselves successful," he said. At the end of the day, Stoecker finds the value of integrity to be most valuable.
"There is no substitute for being plain spoken and honest about your dealings. Folks in the Midwest are known to be reflective of this value," he said. Even as Stoecker looks back on more than 30 years of achievement in the pork industry, he isn't focused on past success.
"Pigs have turned from a secondary enterprise on most farms with minimal management and facility input to operations where they are the primary specialized enterprise. Our industry has changed facility design, breeding stock, and management methods all with an eye toward predictable high performance. We've gained a lot of ground; however there are still great examples yet to be attained. As consumers take more interest in the quality and source of their food we have an opportunity to be more descriptive and differentiate in terms of quality and source verification," he said.
Ever the visionary with an eye toward the horizon Stoecker still feels there is much to accomplish.
"I want to learn to be a good grandfather. I have one grandchild, but, three are on the way. I want to find a way to impact them in a way that lasts their lifetime."
Learn more about Randy: National Hog Farmer, Smithfield News