Craig Jagger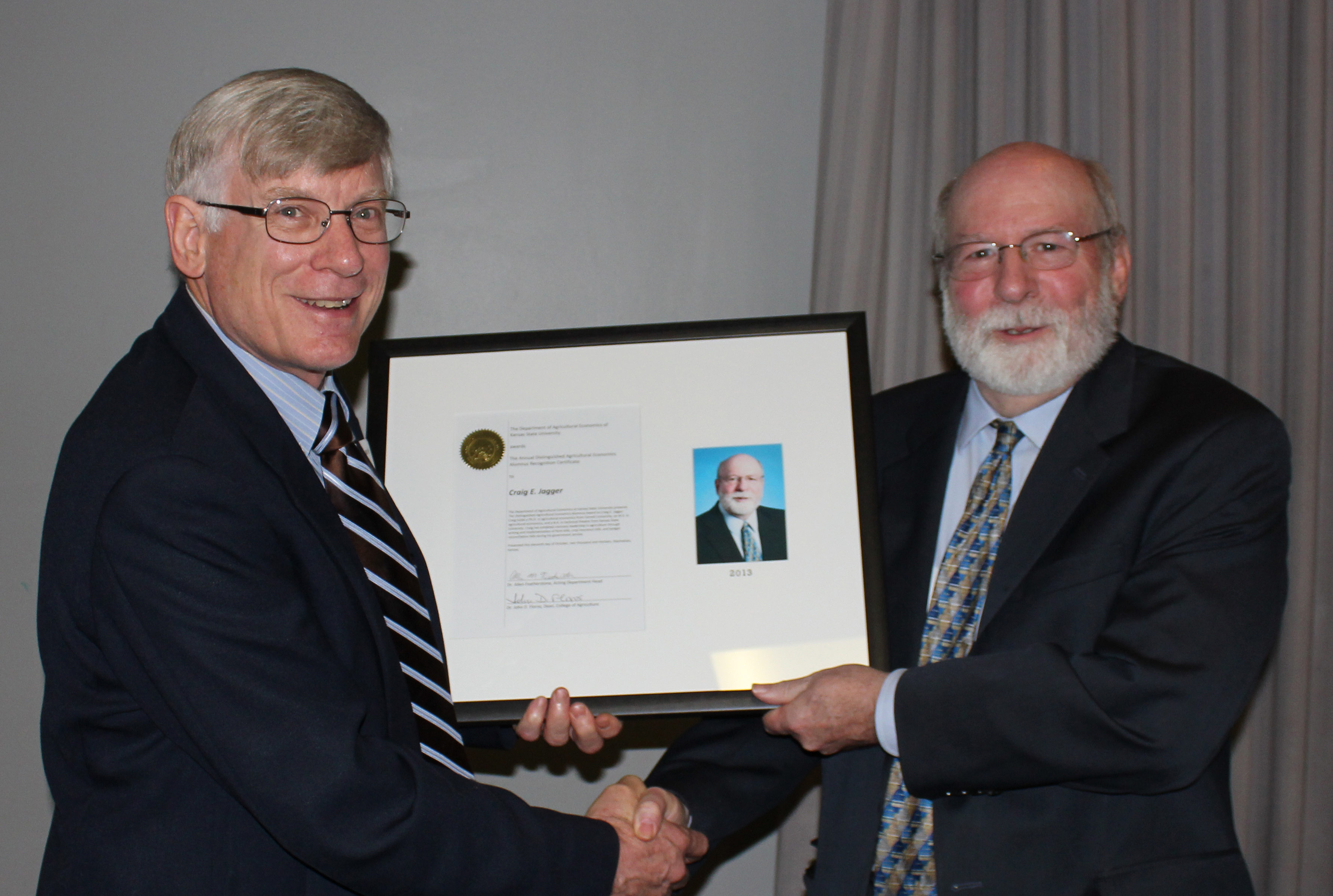 During the Student and Alumni Awards Banquet held October 11, 2013, Craig Jagger was presented with the 2013 Distinguished Alumnus Award. This award is given to an alumnus who has demonstrated significant professional achievement related to agricultural economics or agribusiness.
During 27 years of government service in Washington, D.C., Jagger worked for ten years as Chief Economist for the House Committee on Agriculture, under two Republican and one Democratic Chairmen; five and a half years as a Principal Analyst for Agriculture at the Congressional Budget Office (CBO); and six years as the Wheat Program Analyst at USDA's Farm Service Agency (FSA). He also held early career positions at the Government Accountability Office and U.S. Department of Agriculture's Economic Research Service.
While serving the Agriculture Committee, CBO, and FSA, Jagger helped analyze, write, and/or implement five farm bills, two crop insurance bills, and five budget reconciliation bills.
Jagger earned a Ph.D. in agricultural economics from Cornell University, and at Kansas State University earned an M.S. in agricultural economics and a B.A. in technical theatre. He is the 2011 recipient of the Bruce Gardner Memorial Prize for Applied Policy Analysis from the Agricultural and Applied Economics Association.
Upon retiring from government service in October 2012, Jagger founded Legis Consulting, LLC—a consulting practice focusing on agricultural and budget policies.
Jagger has been married for 26 years to Joy Harwood who is Chief Economist for FSA. They have two daughters, Margaret, 13; and Caroline, 9.
Other Distinguished Alumni in attendance at the banquet were Rich Porter and Loren Kruse. Visit the alumni web page to view the video of undergraduate scholarship winners that was featured at the banquet.
Learn more about Craig: AAEA, LinkedIn