Kansas State National Agri-Marketing Association (NAMA)
The Kansas State National Agri-Marketing Association is a great way for college students to begin their careers in the agricultural industry.
Membership is open to students from every discipline on campus. The goal is to complement other student clubs. NAMA student chapters cut across disciplinary lines, allowing a broad exchange of information and ideas.
As a student NAMA member you have unlimited resources at your fingertips to help market yourself in the industry.
• Network with professionals in the industry • Develop marketing and communications skills • Expand your skills by serving as a chapter leader
---
Club Meetings – Twice a month, on set Mondays at 5:30
At our student chapter meetings, guest speakers provide valuable insight on a variety of topics including: • Career Development • Marketing • Motivation • Research and Development • Personal Advancement • Advertising • Public Relations • Sales
Team Meetings -- TBD
Kansas State NAMA's team has been very successful, capturing 4 national championships, and consistently being in the finals. The team is open to anyone and everyone that wants to participate in marketing a selected product at competition, from picking the product to creating the executive summary and presentation. When finalizing the product and starting to create the presentation during spring semester, individuals will be selected to present the presentation at the NAMA competition held in April of every year.
You do not have to be involved in both the team and the club. If you are on the team, you are automatically in the club. However, if you just want an opportunity to network with marketing and agricultural leaders the club is a great place to start.
---
2016-2017 Officers
President - Rachel Zimmerman
Team Captain - Georgina Rubio
VP of Recruitment - Alana McClain
VP of Programs - Shelby Zink
Treasurer - Jacqueline Clawson
Secretary - Christine Rock
Promotions Chair - Eryn Carter
Careers Chair - Lauren Budenski
Advisors: David Lehman and Kellie Jackson
Student Advisor: Katy Clawson
---
To learn about upcoming meetings:
-Like our page on Facebook - Follow us on Twitter @KansasStateNAMA - For any questions or if you would like to be added to the list serve please contact: - Marie Annexstad: mannexst@ksu.edu
---
K-State Agricultural Economics/Agribusiness NAMA
The 2015-2016 Kansas State NAMA team placed third, out of thiry teams at the National Agri-Marketing Competition in Kansas City. Kansas State NAMA also placed fourth for the John Deere Signature Award and had two students recieve scholarships. Katy Clawson recieved the RC Ferguson/Successful Farming Scholarship and Jacqueline Clawson received the McKain NAMA Chapter Award.
---
K-STATE TEAM WINS SECOND CONSECUTIVE NATIONAL AGRI-MARKETING COMPETITION
The Kansas State University National Agri-Marketing Association student team won the 2007 National Agri-Marketing Competition, finishing first for the second straight year. The competition, at the National Agri-Marketing Association's annual conference and trade show, was April 10-12 in Dallas, Texas.
For the competition, students chose a product and developed a plan to successfully bring their product to the marketplace. David Lehman, K-State instructor of marketing and team coach for the competition, said the K-State team developed a marketing plan for a new text messaging service for feedlot owners and managers. The service would provide actionable, timely and accurate market information to aid in marketing decisions when selling cattle.
"We believed in our product and the plan we presented and that showed in our presentation throughout the competition," said Stacy Mayo, senior in agricultural communications and journalism, Garden City, and a team member. "It was great to come out on top in the end. Many people told us that we couldn't win two years in a row. We knew if anybody could, this team would."
Teams from 31 universities participated in the competition, including three teams from Canada. K-State competed against the University of Florida, Sam Houston University, Ohio State University, University of Wisconsin-Platteville and the University of Guelph in the finals. In addition to winning the marketing competition, the K-State team won the "Best Product" award. Two K-State students also were chosen for scholarships awarded at the conference.
Along with Mayo, K-State participants included: Katie Morris, senior in agribusiness, Arkansas City; Jeff Pio, junior in agribusiness, Edgerton. From Franklin: Vincent Hofer, junior in agribusiness, $2,500 National Agri-Marketing Association scholarship recipient, and David Widmar, junior in agricultural economics, $1,000 National Agri-Marketing Association scholarship recipient.Sarah Coover, senior in agribusiness, Galesburg; Annie Whitehill, senior in agricultural communications and journalism, Latham; and Sam Selee, senior in agribusiness, Manhattan. From out-of-state: Chelsea Good, senior in agricultural communications and journalism, Parker, Colo.; and Jen Albrecht, junior in agricultural economics, North Platte, Neb.The National Agri-Marketing Association was formed in 1957 and serves the food and fiber industry, focusing on members' professional development by providing access to solutions and opportunities in agribusiness.
---
Find us on Twitter @KansasStateNAMA and Facebook.
Event Archives
September 8 | Resume Informational presentation and critiques with Mary Ellen Barkley of CES, Waters Hall 336
September 15 | Professional panel on the topic of tips for interviews and elevator speeches, Waters 336 at 7:30 p.m.
September 29 | Chips, Dips and Internships; a panel of students talking about their internships. We are collaborating with ACT and AgEcon club. There will be two students from each club on the panel and we plan to recognize all students in our 3 clubs that had an internship over the summer. Of course there will be chips and dip at the event because they are delicious and it rhymes so well with internships! Leasure Hall lecture room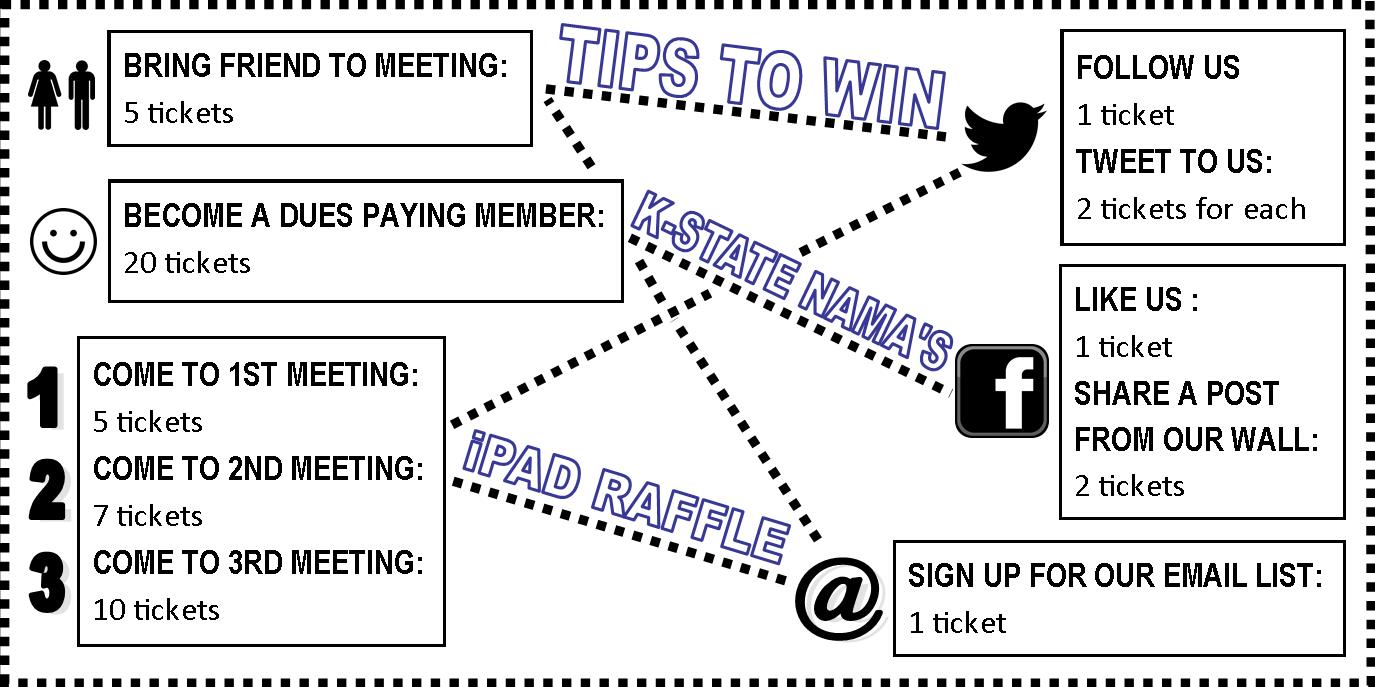 NAMA is giving away an iPad to encourage new membership. The more activities recruits do with NAMA, the more chances they have to win the iPad. The drawing will be held November 24th and the person must be present to win.
January
26th: 6:00 Officer meeting, 7:00 Dr. Fraley lecture
27th: 5:30-7:30 Hot Chocolate Social
30th: Project 17 trip to Southeast Kansas
February
2nd: 7:00 in Waters 336 College of Business Sales Certificate presentation, David Lehman
16th: 7:00 in Waters 336 Shark Tank Night
February 27 | Team trip to Kansas City to present to Advertising Agencies
March 4 | Team NAMA MoKan Presentation at Brio in Kansas City
March 9 | 7:00 in Waters 336 How to make a Social Media Campaign workshop
March 18 | National Ag Day
April 13 | 5:30, Leasure Hall 013 - Team Presentation to Students
April 14-16 | NAMA Conference in Kansas City, MO
April 27 | Potential meeting date, TBD on subject
May 4 | Officer Elections
May | TBD: Spring Social