Undergraduate News Archives
Fall 2011, Spring 2009, Fall 2007, Spring 2007
Fall 2011
New Course Examines Global Food and Agriculture Issues
Students entering the agricultural economics and agribusiness programs this fall are among the first who will be required to take a new course, AGEC315 Contemporary Issues in Global Food and Agricultural Systems.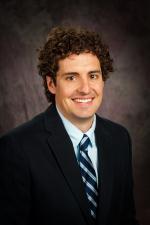 Nathan Hendricks, assistant professor of agricultural economics, joined the faculty in August and is teaching the course.
"A unifying theme to the class will be the question, 'How will we feed the world by 2050 while protecting the environment?'" Hendricks said.
The class will cover issues related to environment, resources, international trade and development. A class blog provides a forum to discuss current events related to the course material. The blog is open for public viewing and comments at http://agec315.wordpress.com.
"All of the students will be contributors to the blog so that it provides an open forum for us to discuss relevant topics in agriculture," he said.
To enroll, students must have completed one of the following: AGEC 120, AGEC 121, ECON 110, or ECON 120. The course also will be offered in Spring 2012 on Mondays, Wednesdays and Fridays from 8:30 a.m. to 9:20 a.m. For more information, contact Hendricks at (785) 477-5430 or NPHendricks@ agecon.ksu.edu.
Students to Explore Brazil Agriculture on Study Tour
Andrew and Mary Ellen Barkley will travel with 28 students on a study tour of Brazil agriculture and agribusiness. The group is meeting weekly this fall to learn about Brazil agriculture, history, economics and trade before traveling in January 2012.
Andrew is a professor in agricultural economics. Mary Ellen is the College of Agriculture representative at K-State's Career and Employment Services. The group will tour farms, ranches, biofuel plants and feedlots. They also will visit JBS world headquarters in Sao Paulo, a meat company that hires K-State graduates. Brazilian sugar and coffee farms are also on the schedule, as well as a visit with a U.S. Trade Representative. The tour also will include a tour of Rio, including the beaches, Christ the Redeemer statue and Sugarloaf mountain.
These global experiences enrich and diversify undergraduate education by offering learning not available at home. A global outlook also better prepares graduates for the professional world and deepens intellectual and personal skills.
Although this tour is full, information about other tours is available at www.k-state.edu/studyabroad.
Nate Spriggs settles into new position
Nate Spriggs has always maintained a busy array of school and community-related activities. A one-time school board candidate in high school, where he compiled an impressive academic and extracurricular resume, Spriggs never hesitated to become involved. Similar results followed at Kansas State University, culminating in his election as student body president in March.
Few breaks have followed for Spriggs, junior in agricultural economics from Riverton, Kan. Summer has been no exception, including a part-time internship with the city of Manhattan and preparation for the remainder of his presidential term at K-State.
Spriggs would not have it any other way.
"It's been a good summer, different every single day," he said. "I like whenever life is a little unique every single day."
Following an almost decade-long tradition, Spriggs completed an internship with the Manhattan city manager's office. The internship is offered to the new student body president and vice president. Many student issues played a role in the projects Spriggs focused on during his internship. He helped with a review of Aggieville safety procedures, specifically regarding Fake Patty's Day. The day is fashioned after St. Patrick's Day and draws countless people to Aggieville and the surrounding areas for the party- like atmosphere. Many stakeholders in Manhattan have pushed for the event's removal, but Spriggs believes the event could not be removed entirely. He has been working with separate entities in developing a recommendation to improve the safety and efficiency of the event.
He also assisted with furniture amnesty day, on which community members to recycle old or unwanted furniture.
Economic development played a prominent role in Spriggs' internship. He worked with a city sales tax program that provides incentives for businesses to start or relocate to Manhattan and that aids existing businesses in the city. Similarly, Spriggs worked with a program that offers small grants for neighborhood improvements.
Spriggs also has been an advocate for K-State students. The city's recently disbanded rental inspection program was supported by organizations such as the K-State Student Governing Association. Spriggs worked with Jim Sherow, Manhattan mayor and professor of history at K-State, on alternatives to the program but none were approved.
Spriggs said he enjoyed the work. "A lot of times you read in the newspaper about what the City Commission or state Leglisature is doing," he said. "It's neat to see the other side of that -- the administrative side."
But Spriggs also was active in his main job as K-State student body president. A platform issue of his campaign -- a VIP program for student entertainment options -- is prepared to move forward. The program will feature special offers and enhanced seating options for McCain Auditorium and Union Program Council entertainment events.
Increased information about campus services will be more readily available as well, thanks to collaboration facilitated by student government. Welcome back information was made available to all students through the K-State residence halls and the K-State Student Union's Expo and Activities Carnival.
Spriggs also helped welcome many new K-State students to campus this summer through a variety of activities at orientation and enrollment and at Wildcat Warm-Up.
Tuition planning has been an ongoing project for Spriggs. Special fees associated with tuition will likely be reviewed for how they are benefiting students, Spriggs said.
Spriggs even managed to spend some time away from Manhattan this summer. He served as a counselor for the Youth Civic Leadership Institute at the University of Kansas and took a family vacation to Table Rock Lake in Missouri. He also volunteered for a week with his family in tornado-ravaged Joplin, Mo., which is less than 10 miles from the Spriggs' home.
Ag Econ Students Complete Summer Internships
Eight agricultural economics students spent their summer breaks gaining practical experience through internships. These valuable work opportunities help students try out different career options while applying their classroom knowledge in the real world. It's important to start early. Check out Career and Employment Services on campus for help with your résumé, applications and interviewing skills, as well as a list of internship opportunities.
KYLEE VAN SLYKE
Wrangler
Hi Country Stables
Estes Park, Colo.
What I Learned: The most valuable skills I learned throughout my internship were the people relations and communication skills that you need to succeed in life and the business world.
KATIE CLIFFORD
Financial Officer Intern
Farm Credit Services of America
McCook, Neb.
What I Learned: I was often asked for my input on loan decisions and financial advising. This required me to apply class examples to real-life situations. I was equipped with the knowledge necessary because of our faculty.
AUSTIN LANIER
Summer Management Intern
Rangeland Cooperatives
Phillipsburg, Kan.
What I Learned: No matter how much there is to do, you have to get it done. You have to manage your time very wisely and know who has to be doing what so you can get everything done in the time you have.
ERICA MEYER
Customer Development and Marketing Executive Assistant
Coffee Haus
Istanbul, Turkey
What I Learned: Keeping immaculate records of everything is extremely important. It's almost impossible to move forward and grow if you don't know from where or what you've come from.
SIERRA KOSTER
Billing Clerk/Office Assistant
Randall Farmers Cooperative
Randall, Kan.
What I Learned: It's hard to narrow it down to one most valuable experience because the internship as a whole was very valuable. I was able to gain "real-world" experience that relates to my coursework at KSU.
SONIA GONZALEZ
Business Management Intern
Cargill Animal Nutrition
Coralville, Iowa
What I Learned: I learned to be much more verbal about my thoughts. When my company asks for my input and opinions I should openly say what I think and let it be considered. I have to open up and know that what I think is important to progress within any team I am apart of.
KALEB DRINKGERN
Service Associate
Farm Bureau Financial Services
Manhattan, Kan.
What I Learned: The knowledge that you must obtain through studying and experience – every person is a new experience and through trial and error you become a better salesman and gain experience for yourself for future appointments where you can help people out.
MICHELLE HILL
Citizenship Washington Focus Program Assistant
National 4-H Council
Washington, D.C.
What I Learned: My internship this summer encompassed multiple aspects. Overall I improved most by developing my soft business skills through facilitation, customer service, mediation and leadership.
Hanawa Peterson Named New Undergraduate Program Director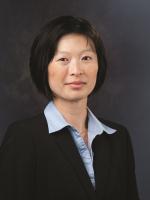 The start of the new semester marked a change in leadership for the Department of Agricultural Economics undergraduate program.
Hikaru Hanawa Peterson, professor of agricultural economics, recently assumed duties as the new undergraduate program undergraduate students in the department are on track to meet the requirements for graduation.
"I work with the faculty to assess and improve our courses and curriculum so that we can offer the best experience for our students," she said. "I enjoy cheering and coaching others to help them achieve their goals. This position broadens my opportunities to be a part, however small, of your success at K-State."
Peterson said she looks forward to getting to know students and welcomes their feedback.
"If you have any insight on how we can help improve your K-State experience, please share," she said.
Peterson serves as a liaison between agricultural economics faculty and the College of Agriculture regarding the department's teaching program.
"It's a privilege to work with undergraduate students," she says.
Peterson's office is in 318 Waters Hall. She invites students to stop by to say hello at any time.
To set up a more formal appointment, e-mail her at hhp@ksu.edu.
Biere Steps Back, Reflects on 24 Years as Undergraduate Program Director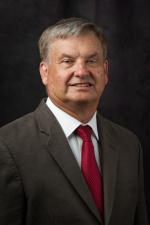 After 24 years as the undergraduate program director, Arlo Biere is getting a change of pace. The professor of agricultural economics recently completed his final year as program director and has transferred the position's responsibilities to Hikaru Hanawa Peterson.
Biere began his duties in 1987, when undergraduate enrollment had dwindled below 200 students.
"I did the detail work of putting together the proposal and working with the curriculum committee to design the requirements," he said.
Not long after launching the agribusiness degree, Biere was able to obtain a grant to send six faculty members on mini sabbaticals to work in agribusinesses to help them better understand business operations.
Over the years, Biere has overseen the undergraduate program and worked with the recruitment coordinator to address improvements, course upgrades and recruiting tactics. That has included cooperating on advertising campaigns to attract prospective students to the department. Today there are 380 students in the department.
"One of my first jobs was to work on a recruiting plan to increase enrollment," he said. "We advertised in various magazines and at community colleges." At the same time, Biere also was busy developing the newly added agribusiness degree.
Reflecting on more than two decades as director, Biere said he valued the personal interaction the position provided.
"I most enjoyed working with both students and faculty," he said.
"I am pleased that Hikaru is the new director of the undergraduate program," he said. "She is off to a good start and I am convinced that she will do an excellent job." The Department of Agricultural Economics thanks Biere for his many years of outstanding service to our students.
Agribusiness Senior Shares Her Study Abroad Experience
Jodie Dugan, senior in agribusiness, shares her experience during her study abroad tour in spring 2011 at University College Dublin in Belfield, Ireland.
What classes did you take?
While I was in the UCD School of Agriculture and Food Science, I took classes in:
• International Food Marketing
• Agri-Environmental Economics and Policy
• Fundamentals of Arable Crop Production
• Ireland Uncovered
What did you learn?
The most significant lesson that I learned is that if someone has a dream or goal, it is up to them to make it happen and if they want to accomplish it they will. I have always wanted to study abroad, but I never really thought I would be brave enough to go through with it if the opportunity came up. It was one of the hardest decisions in my life so far, but in the end I couldn't imagine not taking this once-in-a-lifetime opportunity. If I had decided not to go, I know I would have regretted it the rest of my life.
What surprised you about your trip?
The most surprising thing was learning how small the world actually is. It amazed me that a guy from Australia knew where Manhattan, Kan., was and had actually visited the Oz Museum in Wamego, Kan. It also surprised me how easy it was to fit in with the culture and the hospitality they showed toward everyone.
What is your favorite memory?
We had two weeks for spring break, so a group of us went to Germany, Austria and the Czech Republic. We made it back in time to celebrate St. Patrick's Day in Dublin, Ireland.
Also during spring break, we toured Dachau, a former concentration camp in Germany. It was eye-opening to see what happened under Nazi control.
Why would you recommend studying abroad? I highly recommend that other Ag Econ/Ag Business students study abroad. This was an agriculture exchange with UCD, so I was able to see agriculture in another country and the role it plays in their lives.
What did you gain?
I got to see different cultures personally and gain knowledge of how they live their everyday lives. Instead of learning about it from a textbook I was able to experience it first- hand.
Where else did you travel while abroad?
• Munich, Germany
• Salzburg, Austria
• Vienna, Austria
• Prague, Czech Republic
• Edinburgh, Scotland
How will studying abroad help your career?
I believe this experience opened up some new doors to finding my future career. I had the opportunity to deal with all different cultures and appreciate them. It was an incredible experience and I know that one day I will travel abroad again; whether it is for a vacation or a career.
Welcome to the Front Lines: Battling Busyness
by Tom Roesler, instructor, K-State Leadership Studies
There's a battle raging on campus…a battle with busyness. Will you thrive or merely survive?
Here's your first question of the semester:
What word best describes your college experience so far?
A. Fun
B. Easy
C. Successful
D. Busy
If you're like most students, "D" is probably the best descriptor for your life. For some, an even better term would be "crazy busy." You might even feel so busy you sometimes wonder if you can avoid having a nervous breakdown. We have a battle on our hands. A battle against busyness.
Emails, cell phones, social media, over-ambitious schedules and energy drinks have changed the world, particularly on campus and student life. Never before have we had 24/7 access to everything.
We can literally do anything at any time. But, should we?
Grandma used to say, "Just because you can do something doesn't mean it needs to be done." Well, she was right. And, that old-fashioned "good sense" is critical. The bad news is no one is going step in and protect you from the constant flood of texts, emails and Facebook updates. It's up to you to take control.
Here are some tips to help you in your battle against busyness:
Facebook this! Facebook has a way of constantly calling our name. It's time to set rules for your relationship with Facebook. No more constant access. Designate small bits of time when you want to talk. Set time limits and experience new freedom.
Don't chase rabbits. Have you ever gone to bed exhausted from an incredibly busy day, yet felt like you didn't get anything done? You can spend all day replying to emails, texting and a million other little things. Meanwhile big things like homework or internship applications get neglected. Stop chasing rabbits and start hunting "big game." Set one-hour blocks of uninterrupted time for big stuff and shut everything else off. The world won't end if you're phone isn't on for an hour, and you'll sleep better knowing you made progress on important tasks.
Manage expectations. Have you ever had parents or friends ask, "Why didn't you answer when I called?" Or, "Why didn't you text me back?" Part of our busyness problem is trying to meet the expectations of others. Well, it's time to manage those expectations. That happens by telling others what's going on. Most of the time, the other person will understand what you mean when you talk about being busy. They'll admire you for taking charge. You might just inspire them to set one-hour blocks of uninterrupted time to focus, too.
There is an ancient Proverb that says, "A man without self-discipline is like a city without walls." In your battle with busyness, these simple tips will help you build some strong walls which will help you thrive, not just survive.
It's time to push back. It's time to tell your "tools" who's in charge. It's time to move from being busy to beating busyness!
New Technology Policy in Effect
Effective Fall 2011 all Ag Econ students are required to have a laptop. A computer is a valuable tool for homework and required in some classes. While you may not need it immediately (until you enroll in AGEC 490, AGEC 505 or another course requiring it), our goal is to help you avoid buying a computer that will not meet all your academic needs as an undergraduate student in our department.
PC or Mac?
You may choose either a PC laptop running Windows 7 or an Apple MacBook running Apple Snow Leopard 10. Some instructors have limited or no experience with Apple, which may reduce your access to technical support.
Specifications
• Duo Core or better processor, with processor speed of 2.4GHz or faster
• 4 GB memory
• 320 GB, 7200 rpm hard drive
• 256MB graphic card or higher
• Display/screen: Student's choice
• DVD/RW capable optical drive
• 2 USB 2.0 connections
• Wireless and wired network support
• Windows 7 Home Premium or Professional (or Apple Snow Leopard 10)
• External mouse with 2 buttons (Optical mouse recommended)
• 3-Year manufacturer warranty recommended
Microsoft Office
Students are required to use Microsoft Office. The current versions (Windows and Apple) are available to students at the K-State Student Union Bookstore. The software is behind the desk at the computer store, not on the shelf. Specify whether you need Windows or Apple.
FREE Security Software
Buy no antivirus software. K-State requires use of Trend Micro antivirus and also recommends Trend Micro OfficeScan to combat spyware/adware. Both are free to download at antivirus.k-state.edu. K-State also recommends downloading Spybot Search & Destroy (free) from www.spybot.info to complement the other programs.
Complete Details
Please visit ageconomics.ksu.edu and click on Technology Requirements under Student Information. Questions? Call Dr. Arlo Biere at (785) 532-4433.

Spring 2009
Vincent Hofer Wins Rhodes Scholarship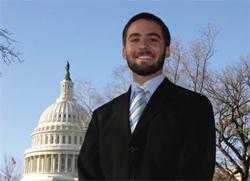 Vincent M. Hofer, Franklin, is one of 32 winners nationally of a Rhodes scholarship. Hofer is K-State's eighth Rhodes winner since 1986.
"All of us at K-State are thrilled and overjoyed that Vincent Hofer received a Rhodes scholarship," said K-State President Jon Wefald. "We are delighted that Vincent will have an opportunity to represent K-State for two years at Oxford University. Any time any university can boast of having a Rhodes scholar, it is something very special for that university. Such a win speaks to Vincent's academic abilities and also to the quality of education he received from K-State faculty."
Hofer, a 2008 graduate in agribusiness, works for U.S. Senator Sam Brownback in Washington, D.C., as a legislative correspondent.
"The Rhodes will give Vincent the chance to pursue Latin American studies and Development Studies at Oxford University, one of the top universities in the world," said James Hohenbary, assistant dean for nationally competitive scholarships. "Having gotten to know Vincent through the application process, I am convinced that he will make excellent use of this opportunity. Not only an outstanding student and leader in his career at K-State, he has a great work ethic, intense intellectual curiosity, and a deep concern for the welfare of others. I am thrilled to see him recognized in this way."
After completing graduate studies, Hofer plans to pursue a career in international development. At K-State, Hofer received the Anderson Award for Outstanding Leadership, and as chapter president, he was instrumental in leading the K-State National Agri-Marketing Association team to back-to-back wins in national competition.
Other leadership offices he held at K-State include president and vice president of the Agricultural Economics and Agribusiness Club, vice president of Blue Key Senior Honor Society, and the vice president and treasurer of the Ag Competition Team Council. Hofer was a recitation instructor for a class of 40 students in agricultural economics, named the Agricultural Economics Department Outstanding Senior of the Year, and a recipient of $28,000 in merit-based scholarships during his college years, including the leadership scholarship. He participated in many different community groups, including being a youth minister leader at St. Thomas More Catholic Church, active in St. Isidore's Catholic Student Center, and volunteer coordinator for the Special Olympics Polar Bear Plunge.
In fall 2005 he studied in Geelong, Australia, and in summer 2007 he was a financial analyst for the Inter-American Investment Corporation and a research assistant at Zamorano University in Tegucigalpa, Honduras. A 2004 graduate of Girard High School, he is the son of Chris and Nancy Hofer, Franklin.
K-State is second among state universities to the University of North Carolina, Chapel Hill, in Rhodes competition since 1986. Since 1986, K-State has had 11 Marshall Scholars, 23 Truman Scholars, 60 Goldwater Scholars and 19 Udall Scholars.
"This reaffirms what Paul Harvey said on his nationally syndicated radio program - that K-State is the student scholar capitol of America," Wefald said.
Ashley Guenther Named 2008-2009 K-State Ambassador
To Ashley Guenther and Donnie Hampton, being named Kansas State University's 2009 student ambassadors will give them the chance to promote a university that they say has already given them so much.
The K-State Student Ambassador Program, which was established by the K-State Alumni Association in 1977, inducts a male and female student each year to represent the student body at association events throughout the state and at university activities.
"I have cherished my K-State experience and am excited to share my passion for our university with everyone," said Guenther, a junior in agricultural economics and agricultural journalism and communications, Ottawa.
"I cannot express how blessed I feel to be given such an amazing opportunity to represent the school that I love," said Hampton, a junior in management information systems, Leavenworth.
Student ambassadors visit with prospective students and alumni at events across the state, attend Student Alumni Board meetings and activities, assist with programming on campus like class reunions, Homecoming Student Committee and other special events, as well as assist the president's office as needed.
Typically, ambassador candidates excel academically and are extensively involved in volunteer and philanthropic activities.
Guenther is a College of Agriculture honors student, a member of the college's Student Alumni Board and an ambassador for the College of Agriculture. In addition, she is president of the Agricultural Economics/ Agribusiness Club, recruitment vice president for Alpha Delta Pi sorority and service co-chair for Chimes, the junior leadership honorary.
Alumnus Thrives on Change and Pressure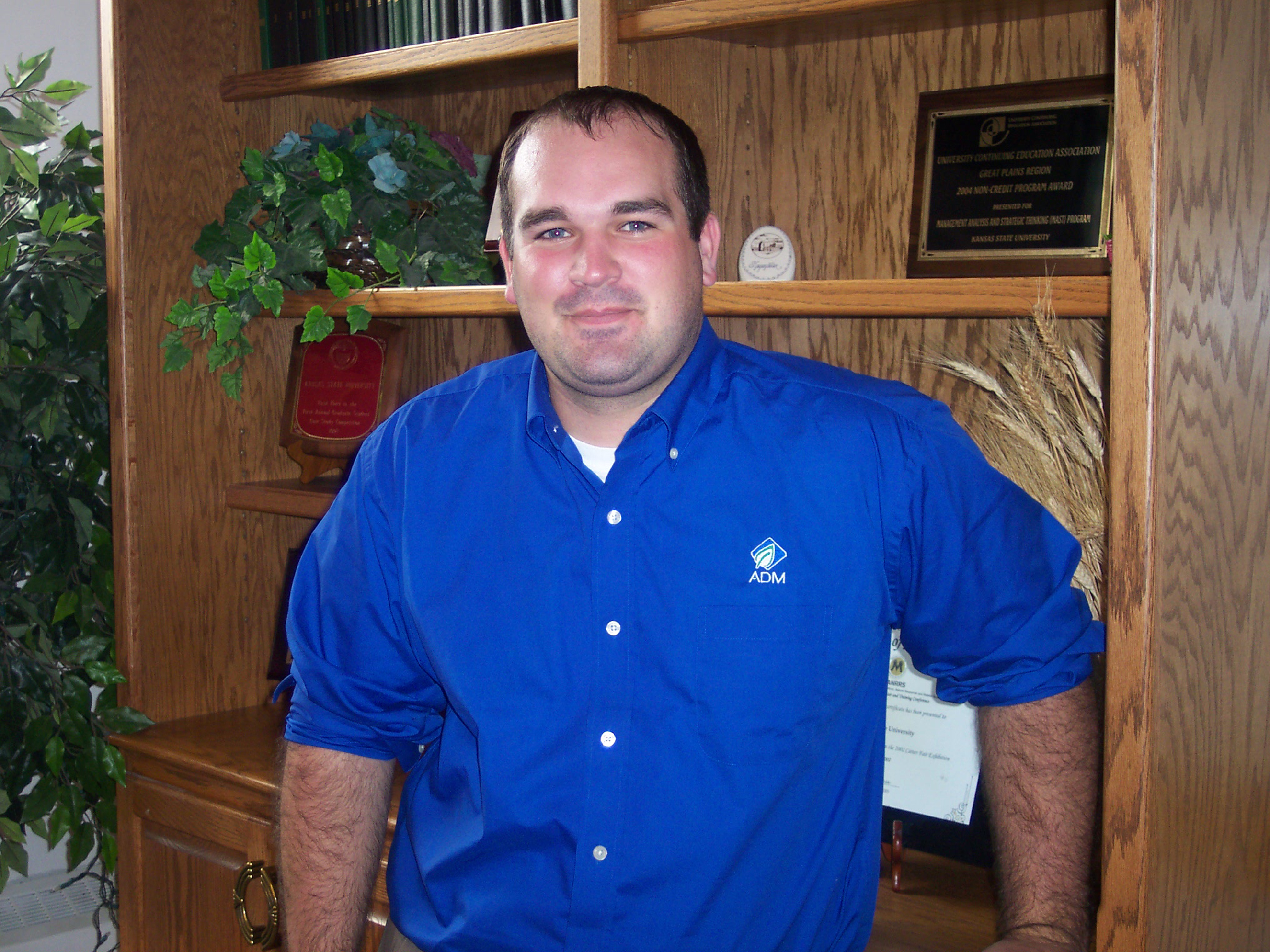 Justin Patterson wakes at 5:30 am and heads out the door without a cup of coffee.
"I used to drink two or three cups of coffee in the morning, now if I drink one, I'm already too hyper for the day," he said smiling. Patterson works as a commodity trader for ADM and counts on the job to provide any needed adrenaline. More than a million dollars passing through his hands each day can create quite a trader's high.
"When the markets rally and the phones are ringing off the hook, you reach this point where your heart is beating outside your chest. The adrenaline pumps through you," Patterson said.
His desire to work in commodity trading began in Dr. Sean Fox's class at K-State.
"We did pit simulations and lost a lot of money. It was good that it wasn't our own -- but it felt real enough to give you a taste of what trading was like," he recalled.
Patterson felt well prepared for the demanding day to day work environment he now lives. His classes gave him a strong foundation for the markets as well as an understanding of risk management tools. However, it isn't just Dr. Fox's class that he utilizes.
"I'm still learning, but I feel like I'm ahead of the curve. I use my Ag Econ training each day, not just in dealing with commodities. I think as broadly as economic rent when I'm analyzing the markets," he shared.
Even though he felt prepared, commodity trading isn't for the faint of heart. The work demands long hours and constant vigilence.
"It's a stressful job, definately a young man's career. ADM does a great job of keeping you moving so that you are working with different commodities and with different people. If you can multi-task and handle pressure and you like an ever changing environment, commodity marketing is for you," he said.
"Some days you wish you had two extra sets of arms to get everything done. You're making choices while the market is for you or against you. No matter what, you can count on the fact that when the market goes it goes.
Market volatility has added another dimension to Patterson's job.
"Volatility makes the job more interesting, but also increases the risk so that time is more valuable than it used to be. In the past the markets could move 10 cents in a day, but now they can move more than a dollar," he said.
But even with the pressure of an intense environment, Patterson manages to find reward on the job.
"Amidst the challenges there are great opportunities to serve. I have an account in Texas where they were running out of soybean meal. Their supplier had no way to get any to them, but I was able to be resourceful and send a truckful down to them the next day. It helped them out of a bind, and it made me feel good," he said.
Tips for a Tough Job Market
Keep in mind that you are dealing with a very tight job market. Therefore, be prepared for the possibility that the job-search process could take longer than usual.
Have a job-search plan and keep good records of your contacts and resources.
Your resume is your marketing tool. Revise your resume and make sure that you target your resume to the position you are applying for. Avoid using a resume that is too general.
Don't mail your resume without a cover letter. Your cover letter should be well written and should briefly and effectively highlight the strengths that are critical for the position you are applying for.
Don't limit yourself to one single job-search approach. Use different methods such as: direct employer contact, resources such as directories, newspapers, online postings, etc. Also remember, networking is an effective job-search technique. Use your support systems, such as: family contacts, friends, past and present internships and employment contacts, etc.
Thoroughly research the organization before you go for the interview.
In the interview, always stress your skills, accomplishments and strengths as they relate to the job you are interviewing for.
Be flexible and have reasonable expectations of both position and salary. If you see a future job potential, sometimes it may be helpful to consider a temporary or part-time position.
Learn how to deal with rejection in your search. If you get rejected for a job, use the experience to prepare yourself better next time. Avoid feeling sorry for yourself or blaming others. You should always ask yourself: what did I do wrong and how can I improve on that next time?
Distinguished Alumnus Challenges Ag Econ Students To higher Achievement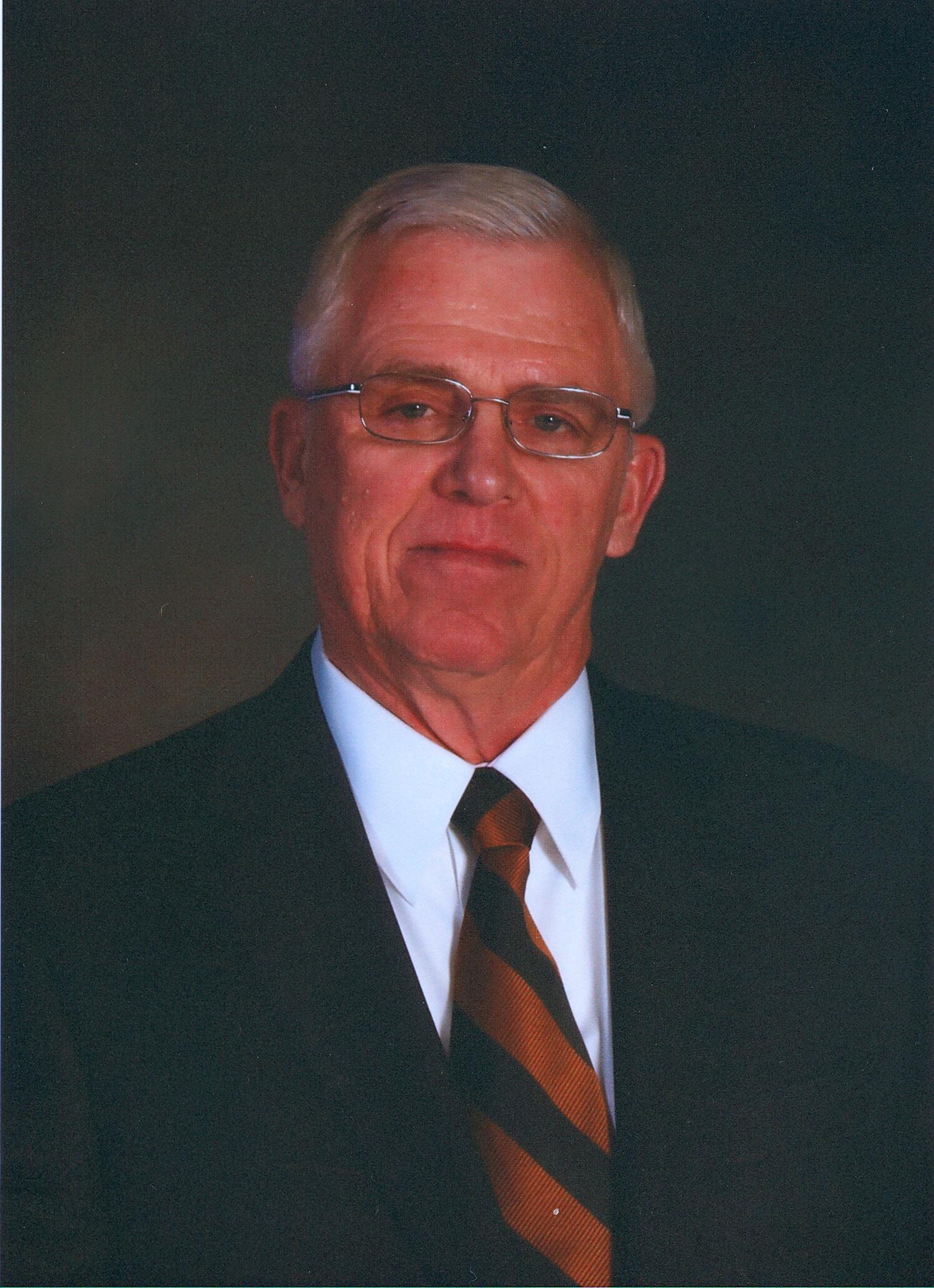 It's not often a respected businessman shares the keys to his success with students, but this was Steve Irsik's goal as he challenged students to achieve more at the recent Department of Agricultural Economics Awards Banquet.
Irsik, named the 2008 Distinguished Alumnus, is no stranger to success. He is General Partner of Irsik Equities, L.P., a family owned agricultural business with headquarters near Garden City, Kansas. Irsik Equities involves significant interests in farming, a native grass ranch, commerical Angus cows, dairy, commercial cattle feeding, feed milling, and further processing. Steve is an entrepreneur who has vertically integrated the cattle and grain segments of the business.
He views several areas to be crucial as students position themselves for the future.
First, the time spent pursuing a degree is not just seeking a diploma. Expand your mind.
Irsik also believes that a bachelor's degree is not enough for the competitive market. A masters degree will become the new bachelors in the future.
Second, networking is a key to future opportunities. Spend time getting to know your faculty advisor and those who provide scholarships. Their experiences and current positions are a great assest as you begin a career.
Love and embrace change. As we've seen in the past few months with the economy, change can happen at any time. Those who anticipate and enjoy change will find themselves in less difficult circumstances. Irsik believes as time goes on change will be more abrubt and accerlerate, so dealing well with change will be a competitive advantage.
Fourth, acquire a vision. Spend time dreaming about what you'd like to do and who you'd like to be. Then, take the next step. Develop a vision for how to accomplish your dreams and pursue them.
Finally, be brave. Success comes from being the first out of the box, but it takes guts to take the first step. Failures will come, but success can be achieved by building on what you know and taking risks.
Four Plus One Program Makes A Graduate Degree Easy
With the recession, graduate schools across the country are seeing increased applications from those desiring to weather a tough job market in school. But, deciding to pursue a graduate degree isn't just for fair-weather job applicants. Increased competition naturally leads businesses to seek out the most qualified people to fill their positions. Dr. John Crespi, K-State Ag Econ Graduate Program Director, believes a graduate degree best prepares students for the job market.
"Markets are more competitive today, and an advanced degree can help students differentiate themselves from other applicants, but there is more to it than this. If a student enjoys economic analysis, a bachelor's degree today is simply not sufficient for the types of analysis that I see companies and public agencies performing," Crespi said.
Knowing a master's degree is increasingly important in the job market, the Department of Agricultural Economics developed the Four Plus One program for its current undergraduate students. Four Plus One allows students to complete both a bachelor's and master's degree in five years, instead of the typical six to seven years.
"Economics is all about opportunity cost, so why should our best undergraduate students, who can handle graduate-level work, not be given the opportunity to start their graduate work a little earlier," he said.
Students selected for the program take three courses for graduate credit during their senior year at K-State. MS requirements are completed by taking five additional courses in year five, along with six hours of thesis credit. Students enrolled in the program are appointed as part time research or teaching assistants during their senior year.
"I often hear about financial concerns, but if you think about it, the financial concerns for getting a graduate degree are not different that they were when a student was getting an undergraduate degree. What the Four Plus One program does is lower the costs of graduate school for some students by overlapping the undergraduate and graduate requirements. Our department helps ease the financial burnden by offering assistantships to qualified applicants as well," Crespi encouraged.
These assistantships will involve approximately six hours per week working with a faculty member, and pay a stipend of $1,500 per semester. Following completion of their B.S. degree, participants will receive a 1/2 time graduate research assistantship stipend of $17,000 for the final year of the program.
Crespi does caution students in an MS program to consider it their job.
"I do not suggest working outside of school while pursuing an MS degree, except for the work that a student would do through an assistantship. Graduate school is tough. It is time consuming. A rigorous program, which we have, will not feel like just another senior year. Students will be pushed. Some students drop out. My advice is do not go to graduate school unless you are willing to give it your best effort." Crespi added.
For more information about the Four Plus One program, stop by Waters 343 for a brochure or contact Dr. Crespi and set up an appointment to talk about the benefits and requirements of the program.

Fall 2007
MAB Travels
After a long flight, we had a day to adjust to the 13 hour time change in Melbourne, Australia. We then journeyed on to Rutherglen to the vineyards and winery of the Cofield family. The family visited with us about their overall business plan and the general evolution of their family business. We had the opportunity to drive near the vineyards and the Cofield brothers talked to us about their production process. Some of the struggles they faced included smoke damage to the grapes from the bush fires and a shortage of water due to a 10 year drought.
We then went to the winery where Damien Cofield explained the process of winemaking and then instructed us in the art of wine tasting.
We then traveled to Adaminaby to the home of John and Roslyn Rudd. Reynella Rides is the name of their ranch. It is located in the heart of the Snowy Mountains. The film, The Man from Snowy River, was actually filmed there. We saw rolling hills and red soils. The countryside was vast, remote, quiet, and beautiful. The Rudd operation is focused on sheep and horses. Over 30 years ago they decided to diversify into tourism to help with cash flow. It has been a great success for them. Although we didn't go horseback riding due to inclement weather, we still had a great visit. The Rudds talked to us about sheep production and some of the challenges the industry faces.
Unfortunately, lamb consumption is gradually declining with time. The Rudds sheared a sheep and also talked about the wool industry. It is challenging for them to find labor to shear the sheep. In addition to this, the price for wool is low. Some students had the opportunity to help John with chores and see some of the countryside. We had delicious meals with the Rudd family. For many students it was the first time to try lamb and Roz did an excellent job of preparing it. After two days of good company and excellent food it was time for us to move on to Sydney.
In Sydney we took a tour of the Sydney Opera House and most students walked across the famous Sydney Harbor bridge. Several students also had the chance to visit the Sydney Aquarium. After a stop in Sydney, we flew to Townsville and drove to Charters Towers. Our next stop was Wambiana Station. It is owned by the Lyons family. They are a working cattle ranch that hosts tourists for a few months out of the year. They diversified into tourism several years ago to help with the cash flow issues associated with their ranching operation. They host several People-To-People groups averaging about 1000 guests per year. During their tourist season, they move all the equipment out of the machine shed and build bunk beds for their guests. Most of us had never slept in our machine sheds back home so this was a bit of an adventure for us.
After receiving a welcome speech from Michael Lyons, we had the opportunity to share a little bit about our agricultural backgrounds and learn more about Wambiana. With hay bales as seats on a flat bed truck we were off for a tour of the ranch. A local grassland researcher talked about a grazing research project they have been doing on the ranch for the last 15 years. They have a stocking rate of about 22 acres per head. Their ranch was about 270,000 acres which was an average sized ranch for the area. It allowed them capacity for 12,000 head. Cheap financing allowed them to double in size. They were able to acquire loans which only required payment of the interest. The Lyons believe this is a good investment for their family. They expect land values to increase with the increase in the demand for beef globally. They plan to continue to host guests to keep steady cash flow throughout the year. After a discussion on the grazing research, we were divided into teams and played a competitive round of Aussie Olympics. After an exciting finish we celebrated, relaxed, and headed back to the house for supper. After a delicious meal we enjoyed the evening around the bonfire.
We then traveled to New Zealand to visit Fonterra, the world's largest dairy cooperative. We received a tour of the plant as well as presentations from 2 members of the shareholders advisory council. Dairy production in New Zealand is based on a seasonal pasture system. Calving occurs in a 4-6 week period and the cows are dry 2-3 months each year. The industry is highly mechanized to allow labor saving techniques. Dairy remains a vital part of New Zealand's economy. Twenty-seven percent of New Zealand's gross domestic product (GDP) is related to dairy production. New Zealand supplies 55% of the world's value added agricultural trade. After our visit to Fonterra we traveled on to Cambridge where we were greeted by our host families for our farm stays. The experiences were varied. Some students learned about cattle and horses, while others studied sheep and crops. After two nights in small groups, everyone came back together to share good stories.
Our last day in New Zealand, we were free to explore Auckland. One evening we had dinner as a group at a Brazilian style Churrasqueria. At this type of restaurant, they bring out numerous cuts of meat on long knives and you choose the cut you want. The supply of liver far exceeded the demand at our table!
After a few flights we were home again but this time we had new knowledge, many stories to tell, and souvenirs to show our friends and family.
NAMA Wins!
The Kansas State University National Agri-Marketing Association student team won the 2007 National Agri-Marketing Competition, finishing first for the second straight year. The competition, at the National Agri-Marketing Association's annual conference and trade show, was April 10-12 in Dallas, Texas.
For the competition, students chose a product and developed a plan to successfully bring their product to the marketplace. David Lehman, K-State instructor of marketing and team coach for the competition, said the K-State team developed a marketing plan for a new text messaging service for feedlot owners and managers called Cattlyst. The service would provide actionable, timely and accurate market information to aid in marketing decisions when selling cattle.
"We believed in our product and the plan we presented and that showed in our presentation throughout the competition," said Stacy, ag communications and journalism, Garden City, and a team member. "It was great to come out on top in the end. Many people told us that we couldn't win two years in a row. We knew if anybody could, this team would."
Teams from 31 universities participated in the competition, including three teams from Canada. K-State competed against the University of Florida, Sam Houston University, Ohio State University, University of Wisconsin-Platteville and the University of Guelph in the finals.
In addition to winning the marketing competition, the K-State team won the "Best Product" award.
Two K-State students also were chosen for scholarships awarded at the conference. Along with Mayo, K-State participants included: Katie Morris, senior in agribusiness, Arkansas City; Jeff Pio, junior in agribusiness, Edgerton. From Franklin: Vincent Hofer, junior in agribusiness, $2,500 National Agri-Marketing Association scholarship recipient, and David Widmar, junior in agricultural economics, $1,000 National Agri-Marketing Association scholarship recipient. Sarah Coover, senior in agribusiness, Galesburg; Annie Whitehill, senior in agricultural communications and journalism, Latham; and Sam Selee, senior in agribusiness, Manhattan. From out-of-state: Chelsea Good, senior in agricultural communications and journalism, Parker, Colo.; and Jen Albrecht, junior in agricultural economics, North Platte, Neb.
The National Agri-Marketing Association was formed in 1957 and serves the food and fiber industry, focusing on members' professional development by providing access to solutions and opportunities in agribusiness.

Spring 2007
Ordered Business Helps Bowser Manage Activities
When you talk with Jarrod Bowser, junior in agricultural economics, the list of activities he's participated in is a bit overwhelming, especially when you know he's enrolled in nineteen credit hours. One wonders when he sleeps.
"My mom thinks I should relax a bit more. My parents are glad to see me involved and happy with what I'm doing, but they think I really push myself," Bowser said.
Since coming to K-State Bowser has held positions as Ag Council President, Ag Senator, National Agronomy Parliamentarian, and has been involved in the Wheat State Agronomy Club and the Ag Econ/Agribusiness Club.
However, his current position as Faculty Senate Parliamentarian might be the most relevant to his future career aspirations on the family farm.
"My plan is to go back to the farm right away. I'm hoping there is room for me. As the youngest in the family I know negotiating the business will have a learning curve."
As Parliamentarian, Bowser attends monthly Faculty Senate meetings. If there are any parliamentary procedure questions Bowser advises the faculty of what Robert's Rules state and how they work.
"I don't say things are wrong all the time. My concern is whether or not the meeting is running well. I make sure no one's right are violated and that the meeting is held in an efficient manner," Bowser said.
It is this perspective Bowser hopes to utilize on the farm. Although his family has a great relationship, "It might be more efficient if my family used these procedures," Bowser jokes.
Bowser 's involvement with Faculty Senate began after Dr. Mickey Ransom referred him to the Senate Chair.
"Dr. Ransom thought I would be a good candidate. I hope I've proved him right," Bowser said.
Bowser 's high level of activities throughout college was a big change from high school. "I wasn't very involved in high school activities. I knew coming to K-State I wanted to develop strong friendships and socialize. Plus, I'm never bored, there's always something to do."
Bowser says students who want to get involved should start with department clubs then add more activities. " The most fun happens in these clubs and you build the strongest friendship there. They also open doors to other activities."
College Professor Pet Peeves and Positive Student Behaviors
Professors love having students in their classes who are there to actively, learn, participate, and demonstrate their commitment to learning.
And then there are certain behaviors best avoided by students in college.
These behaviors drive faculty crazy and will lead you to be seen as less than the ideal student. Some of these activities are disrespectful to the professor -- as well as to your fellow students.
Part of earning an academic degree includes learning socially appropriate behavior. Take the following quiz to find out if you bug your professors and peers, see how many statements fit your behavior.
Failing to come to class regularly
Arriving to class late (and especially making a big entrance), and worse, making a habit of it
Shuffling papers, putting books away, and other "end-of-class" behaviors before the professor has ended class
Questioning whether some of the homework for the class was just "busy work"
Asking if "we're doing anything important in class" when informing the professor that you may have to miss a class
Asking about what is happening in class when it is clearly marked on the syllabus
Allowing your cell phone to ring in class
Text Messaging while in class
Holding a private discussion with someone during class
Asking inane or off-topic questions
Eating a meal in class
Telling the professor you went to his or her office for help but he or she is never there
Claiming that you did not know an exercise was due, that there was a test, or any other class work that is clearly identified on the class calendar
Telling the professor you deserve a break because of who you are
Not completing the assigned reading before class
Going to the restroom in the middle of class if it is not an emergency
Sleeping during class
Complaining about the workload in class, stating "you know, this isn't the only class I am taking"
Wearing inappropriate clothing to class
Asking to "borrow" a stapler to staple a homework assignment (Would you ask your boss to borrow a stapler to staple a report?)
Turning in assignments that do not follow class procedure
Making excuses for missed exams or class assignments
Positive Behaviors encouraged by professors:
Students who take responsibility for their education
Students who have read the assigned reading and actively participate in class discussion
Students who complete all assigned work on time
Students who sit toward the front of the classroom
Students who visit professors during office hours
What To Do When You Are Worth More Than They Offer
Here's an ideal scenario: After a grueling number of job interviews with a prospective employer who is hiring someone for the job of your dreams, you're again meeting with the hiring manager when she turns to face you and gives you the job offer, but at a salary below what you had expected. You are still excited, elated actually, but what you do next could have consequences for years to come.
Even if the job offer is acceptable to you, most career experts agree that you should take the time to clear your head and consider the offer -- away from the pressure of an interview. So, make sure to thank the interviewer for the job offer and express your interest in the job and the company, but ask for some time to consider all the details.
But what if the offer is unacceptable to you? If it really is one of your dream jobs -- or even simply a job you really want -- you should consider moving into the negotiation phase by making a counter proposal to the employer.
1. Delay salary and benefit negotiations for as long as possible in the interview process. You'll have more power to negotiate when the field of candidates has been reduced to just you -- when the employer is completely sold on you as the best candidate for the position.
2. Remember that you'll have your greatest negotiation leverage between the time the employer makes the original offer and the time you accept the final offer. Once you accept an offer, you have little to no room to negotiate.
3. Don't negotiate at the time the initial job offer is made. Thank the employer for the offer and express your strong interest and enthusiasm in the job, but state that you'll need time to evaluate the entire compensation package. Most employers are willing to give you a fair amount of time to review -- and if you run across an employer who wants a decision immediately, consider long and hard whether you want to work for such a company.
4. Do your research. The greatest tool in any negotiation is information. Make sure you have done a thorough job of determining your fair market value for the job you are seeking, the salary range of the job for this specific employer, and geographic, economic, industry, and company specific factors that might affect the given salary. Also try to obtain information on the employer's standard benefits package so that you have information beyond salary.
5. Just do it. While a large percentage of corporate recruiters are willing to negotiate compensation, only a small percentage of job-seekers actually do so. You don't have to be an expert negotiator to get a sweeter deal; you just need to know the rules and strategies of negotiation.
6. Negotiate to your strength. If you are a smooth talker (an extravert), call the employer and ask for a follow-up meeting to discuss a counter proposal. If you communicate better in writing, prepare a counter proposal letter.
7. Always ask for a higher salary (within acceptable limits) than you are willing to accept so that when the employer counters your proposal, the salary should be near your original goal. And when possible, try and show how your actions (once on board) will recoup the extra amount (or more) that you are seeking -- through cost savings or increased sales revenue, productivity, efficiencies.
8. If the salary you're offered is on the low end -- and the employer has stated that salary is not negotiable (probably due to corporate salary ranges or pay grade levels), consider negotiating for a signing bonus, higher performance bonuses, or a shorter time frame for a performance review and raise. Always negotiate base salary first, and then move on to other elements of the job offer.
9. When presenting a counter proposal to the employer, be sure and include a few benefits that are expendable so that you can drop them in a concession to the employer as negotiations continue.
10. Remember that even if all salary issues are "off the table," there are still numerous other benefits you can negotiate, such as moving expenses, paid vacation or personal days, professional training, and more. See the sidebar for the entire list of negotiable items.
11. Never stop selling yourself throughout the negotiation process. Keep reminding the employer of the impact you will make, the problems you will solve, the revenue you will generate. And continue expressing interest and enthusiasm for the job and the company.
12. If you have no intention of accepting the company's offer, don't waste your time or the company's by entering into negotiation. Negotiation is a process designed to find common ground between two or more parties.
13. Don't enter negotiations with the wrong attitude. Always have in the back of your mind that your goal with these negotiations is a win-win situation. You want to get a better deal, but you also need to let the employer feel as though they got a good deal as well.
14. Never make demands. Instead, raise questions and make requests during negotiations. Keep the tone conversational, not confrontational.
15. Be prepared for any of a number of possible reactions to your counter proposal, from complete acceptance to agreeing to some concessions to refusal to negotiate.
16. You have to be willing to walk away from negotiations. If you don't have a strong position (a good current job or one or more current or potential job offers), it will be harder for you to negotiate. If you really need or want the job, be more careful in your negotiations.
17. Once the employer agrees to your compensation requests, the negotiations are over. You cannot ask for anything more -- or risk appearing immature or greedy and having the employer's offer withdrawn or rescinded.
18. Always be sure to get the final offer in writing. Be extremely wary of companies that are not willing to do so. Note: one advantage of writing a counter proposal letter is that you list the terms of the offer in your letter.
RSS feeds college students diet for research
Lilangi Ediriwickrema, 21, peruses summaries of the latest articles about stem cell research. She quickly dismisses the first three articles but pauses on the fourth before clicking to read the entire story. A time stamp on the corner reveals the article was posted just two minutes earlier.
"It saves me a lot of time and energy," says Ediriwickrema, an undergraduate at the University of Pennsylvania. "I can quickly find what I'm looking for without having to go from Web site to Web site, and I get the most up-to-date information."
Ediriwickrema is part of the growing number of on-the-go, sleep-deprived students who recognize the value of an Internet technology called RSS and are milking its benefits for use in the classroom.
Short for Really Simple Syndication, RSS is a way to receive constant updates from news sites, online catalogs and blogs without the laborious process of visiting individual sites, wading through outdated content and managing annoying pop-up ads.
"It's like a subscription or clipping service," says Paul Jones, a professor at the University of North Carolina at Chapel Hill and the director of ibiblio.org, an online public library of Web information (www.ibiblio.org). "You can drag any Web site you want to watch, from BBC to personal blogs, and it will let you know if you have new stuff."
Students use software called news readers or online sites, such as Bloglines (www.bloglines.com) or Topix.net (www.topix.net), to view their RSS subscriptions, which are also called feeds. News readers and RSS sites can display subscriptions from hundreds of different sites on a single page as short summaries. Students then can scan them quickly and decide whether they should click summary or headline links to read complete articles or reports.
The single-page format gives users the added benefit of tracking a large number of sources in one place, making it easy to compare the usefulness and credibility of different sources.
For Sara Knechtel, a student at the University of North Carolina at Chapel Hill, RSS comes as a relief from the proliferating sea of bogus information on the Web.
"Running searches on Google or Yahoo! will bring back so many irrelevant sources," Knechtel says. "There's the issue of making sure the sources you do find are credible."
While students are picking up the RSS habit, its popularity is growing with all Internet users. A survey conducted by the Pew Internet & American Life Project in 2004 found that six million Americans get news and information from RSS readers. Five percent follow their favorite sources through RSS syndication.
For students like Ediriwickrema who balance a heavy academic course load and an active social life, the three initials translate into one task that she can cross off her to-do list.
"I'm already busy and stressed enough as it is," Ediriwickrema says. "Anything that gives me more time and less headaches — then I'm all about it."
Are You Thinking About Grad School?
Deciding to seek one or more graduate degrees is a major commitment of time and money; a decision not to take lightly. You will face several years of intense work and research -- a much more demanding course load than in your undergraduate program. Before deciding your next step, you should take the time to honestly answer these five questions.
Why are you considering a graduate degree?
Career Goal: You need to have a clear understanding of what you want to do with your career -- and how earning a graduate degree will help you reach that goal. If you have any doubt at all about your professional goals, consider putting off graduate school and, instead, spend some time working on some self-assessment and career planning. If you go to graduate school without a clear goal, you will probably end up wasting both time and money.
While certain careers definitely require an advanced degree -- doctors and lawyers, for example -- many other careers offer plenty of job opportunities for job-seekers with just an undergraduate degree. In fact, in some situations having an advanced degree can actually hurt you in a job search if you also have little or no job experience.
Compensation: Most studies show that people with advanced degrees earn more on average than people with
bachelor's degrees. According to the U.S. Census Bureau, in 1998 the average worker with a bachelor's degree earned $40,478, while a worker with a master's degree earned $51,183, and a worker with a doctorate earned $77,445.
When should you consider obtaining a graduate degree?
One of the questions most often debated is when is the best time to consider a graduate degree. Is it better to attend graduate school right after you complete your bachelor's degree, or is it better to wait a few years and gain some work/life experience first. As mentioned above, certainly do not consider going immediately to graduate school as a default move -- or to avoid getting a job.
The reasons for going straight to graduate school after earning your bachelor's degree:
•you are accustomed to being a student -- and have momentum;
•your study skills are sharp;
•you have few obligations;
•some occupations require an advanced degree even for "entry-level" positions. The reasons for working for a few years before going to graduate school:
•you can better know your career goals by working in the field for a few years;
•some graduate programs require work experience;
•you bring a broader world view to your studies;
•you have a more mature outlook on school and work;
•many employers will pay some or all of your graduate school expenses;
•you can gain solid financial footing;
•you can improve your chances for acceptance to graduate programs -- especially if you were not the best student in your undergraduate program.
What is the best graduate degree for you?
There are two traditional categories of graduate degrees -- master's and doctoral -- although there are also numerous hybrid combined-degree and certificate programs at many universities.
Master's: Master's degree programs are growing and evolving, with degrees offered in just about all fields. Master's degrees can be professional or academic. Professional degrees, such as a Master of Business Administration (MBA), are designed for employment or advancement within a given field. Academic degrees, such as a Master of Science, are designed for intellectual growth and (sometimes) a prerequisite for doctoral work within a given field. Master's degrees may take one
to three years to complete.
Doctorate: Doctoral degrees, the highest possible earned academic degree, can also be professional or academic. Professional doctoral degrees, such as the Doctor of Medicine (MD) and the Juris Doctor (JD), stress the practical application of knowledge and skills. Academic doctoral degrees, the Doctor of Philosophy (Ph.D.), focus on advancing knowledge through original research in a given academic field. Doctorates may take three to six years to complete.
What is the best graduate school/program for you?
Just as important a decision as whether to go to graduate school is the decision of where to go to graduate school. In fact, some experts say your choice of a graduate school is much more important than your choice of an undergraduate school.
The Department of Agricultural Economics has developed an accelerated master's degree for distinguished scholars. For those who qualify, it is possible to complete a bachelor's and a master's degree at the same time. For more information about this program see Cherie Hodgson in Waters 343.
Finally, can you afford graduate school?
Just as with your undergraduate college, it is crucial to look at the costs of the various graduate programs that interest you and determine what mix of financial aid will make attending the programs feasible. It's best to study the literature each sends you and then talk with a financial aid adviser at those schools that interest you.
Besides some of the same types of financial aid offered at the undergraduate level, most graduate programs also offer fellowships (for teaching or research assistance). And if you're currently employed, don't forget to see if your employer has an tuition reimbursement program.