Sean Fox
Professor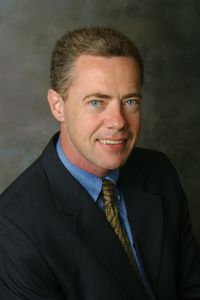 218 Waters Hall
Manhattan, KS 66506
785.532.4446
785.532.6925 | Fax

seanfox@k-state.edu
Links
View My Curriculum Vitae (PDF)
Agricultural Economics Study Abroad Blog Site
Education
B.S., Agricultural Science, University College Dublin, Ireland, 1989
Ph.D., Agricultural Economics, Iowa State University, 1994
Research Interests and Experience
My research focuses on food safety and non-market valuation. Much of my work involves the design and implementation of surveys, market experiments, and retail trials to assess consumer preferences and to estimate values for food safety, new food products, technologies, and information. It includes studies on food irradiation, cloning, country-of-origin labeling, genetic modification, guaranteed tenderness in steaks, and milk from animals treated with bST. Using non-hypothetical valuation experiments in which participants actually purchase and consume food products has been a feature in much of my work, and results have demonstrated significant differences in valuation between hypothetical (survey) and non-hypothetical (auction) contexts. Risk is invariably an important element in assessing valuations of new, sometimes controversial, food technologies. Many of my projects have involved assessing both preferences for and perceptions of various risks, and how those preferences/perceptions respond to new information from various sources (Government, industry, and etc).
Teaching Responsibilities
AGEC 420 | Commodity Futures | Fall and Spring | On Campus
AGEC 760 | Applied Econometrics | Fall and Spring | MAB Program
Areas of Specialization
Consumer economics: Most of my work has been conducted in a multi-disciplinary team environment with other economists and food scientists and has led to a number of co-authored publications in a variety of journals.
Key Publications
Bernard, J.C., K. Gifford, H.H. Peterson, J.A. Fox, and L. Hildebrand. "Prospects for U.S. Rice in Japanese Retail Markets under COOL: A Sensory Experiment." Journal of International Food & Agribusiness Marketing. Forthcoming 2015
Fox, J.A. and L.L. Ward. "Grain Production and Consumption: Cereal Grains in North America." Chapter 4.8, Encyclopedia of Food Grains, Elsevier. Forthcoming 2015.
Peterson,J.M., C.M. Smith, J.C. Leatherman, N.P. Hendricks, and J.A. Fox "Transaction Costs in Payment for Environmental Service Contracts." American Journal of Agricultural Economics 97(2015):219-238
Peterson, H.H., J.C. Bernard, J.A. Fox, and J.M. Peterson. "Japanese consumers' valuation of rice and pork from domestic, U.S., and other origins." Journal of Agricultural and Resource Economics 38(2013):93-106
Boland, M. and J. Fox. "Food Irradiation and Public Health." University of Minnesota, Food Policy Research Center. November 2012
Fox, John A. "Risk Preferences and Food Consumption" Oxford Handbook of the Economics of Food Consumption and Policy. Oxford University Press, 2011
Gelso, B.R., J.A. Fox and J.M. Peterson. "The Cost of Wetlands: Effects of Size, Hydration and Dispersion." American Journal of Agricultural Economics, 90(2008): 172-185
Fox, J. A., B. Coffey, J. Mintert, T. Schroeder and L. Valentin. "The U.S. Response to BSE." Choices 20(2005):1-5.
Tonsor, G., T. Schroeder, J. Fox and A. Biere. "European Preferences for Beef Steak Attributes." Journal of Agricultural and Resource Economics 30(2005):367-380
Hartl, J. and J. A. Fox. "Estimating the Demand for Risk Reduction from Foodborne Pathogens through Food Irradiation." Agrarwirtschaft (German Journal of Agricultural Economics) 53(2004):309-318.
Fox, John A. and Hikaru H. Peterson. "Risks and implications of bovine spongiform encephalopathy for the United States: Insights from other countries." Food Policy 29(2004):45-60.
Lusk, J.L., J. Roosen and J.A. Fox "Demand for Beef from Cattle Administered Growth Hormones or fed Genetically Modified Corn." American Journal of Agricultural Economics 85(2003):16-29
Fox, John A., Dermot J. Hayes, and Jason F. Shogren. "Consumer Preferences for Food Irradiation: How Favorable and Unfavorable Descriptions Affect Preferences for Irradiated Pork in Experimental Auctions." Journal of Risk and Uncertainty, 24(2002):75-95.
Fox, John A. and David A. Hennessy. "Cost Effective Hazard Control in Food Handling." American Journal of Agricultural Economics 81(1999):359-372