E-Newsletters
Click here for the Spring 2016 PDF Version. Click here for the Email Version of the Spring 2016 eNewsletter.

Spring 2016 E-Newsletter
A Note from the Desk of Allen Featherstone
Welcome to the spring E-Newsletter. In this edition we'll be taking a look at some of our programs within the department that provide outreach to our surrounding communities and global partners. Finding a way to process data into useful analytical tools, which gives leaders a wider range of tools to accomplish their mission, remains one of our core functions within the department of agricultural economics.
In that light, we'll be taking a look at the office of local government (OLG). This unit is led by Dr. John Leatherman. Leatherman works with his staff of young professionals and student assistants to aggregate fiscal data on the fiscal fitness for local government. The team then presents the data to local community leaders, giving a deeper insight into the inner workings of their respective organizations.
Our center for risk management (CRMER) conducts research on the volatile global marketplace. It uses the research to educate clients on the market environment, and provides tools to mitigate their exposure to risk. Now more than ever, it is important to have the right content and appropriate context available for decision makers to facilitate good leadership.
The OLG and CRMER programs share one core mission; the tutelage and professional development of student workers. Real world experience, coupled with hands on research and data collection techniques, give our students an unprecedented opportunity to develop key professional skills as they continue on to their future careers. Our educational component continues to see the best and brightest, and we'll highlight some of their achievements in our undergraduate highlight section of the newsletter.
We're celebrating another great year for faculty grants for research. The department has received over $800,000.00 in recent grants and sponsorships. This will enable them to conduct research ranging from the role of U.S. agriculture in global food and environmental security, to bovine respiratory disease impact on feedlot operations. Our achievements are directly related to the continued support of our alumni and corporate sponsorships. This support helps us provide our students and outreach programs the proper foundation to continue our tradition of excellence. We appreciate the dedication and engagement of our alumni and outside supporters. Thank-you to our generous donors who give back to the Department.
Please take time to learn more about the activities of our department. We also encourage you to share your career and family developments so we can keep your fellow alumni informed. Please email me at afeather@ksu.edu or Thomas Reust, our newly minted communications coordinator, at tomreust@ksu.edu with information you would like to share with your fellow alumni.
Dr. Allen Featherstone
Department Head, Professor, Master of Agribusiness Program Director

Table of Contents
The Office of Local Government

The Office of Local Government
The Office of Local Government(OLG) has become a leader in regional government economic analysis. OLG executive director, Dr. John Leatherman, founded the unit and continues to guide the program in its present day. OLG specializes in community finance analysis, but has moved on to other problem areas by giving expert advice on current issues found in local government.
From the beginning OLG has highlighted the benefits of providing fact driven advice to its customers. Leatherman founded the program after seeing a need in communities for more data driven consulting to address a sometimes volatile fiscal environment. With just a small initial capital investment from the university Leatherman set about to build the large bulk of data used by the program by first copying massive reams of municipal reviews and expenditures all across the state.
The initial push included Leatherman going into over 90 different communities to showcase the strengths of good data science, and the benefits derived from proper analysis. OLG is unique in that it is mostly funded through its customers and small grants. Leatherman believes that operating environment is conducive to innovation as it requires an entrepreneurial mindset to keep meeting customer demand.
In that light, OLG has branched out their operation to meet the needs of its customers by providing analysis on mental health, water and other fiscal components required in running an efficient community. Now more than ever, given the increased scarcity of resources available to many communities, an investment in good analysis enables local city and county governments to prioritize spending and make the best possible decisions given the current fiscal environment.

Dr. John Leatherman says he finds some of the most rewarding work within the OLG program is in educating his student staff. He calls it "Leatherman University". One former "LU" student, Emily Mollohan, was recruited into the OLG program during her freshman year of college, and believes the workplace experience gave her the majority of her professional acumen she uses today.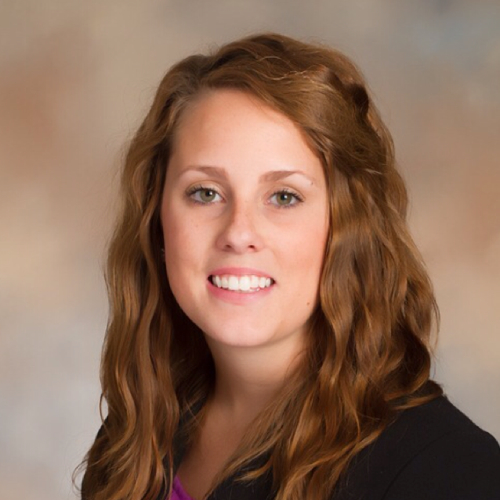 Mollohan said, "I learned such a wide variety of skills that I have been able to apply them in multiple facets, such as internships and graduate school."
Mollohan received a B.S. in agribusiness and animal science, and went onto complete her masters in agricultural economics under the tutelage of Dr. Glynn Tonsor. The biggest take-away from her work experience with the OLG program? Confidence.


"There was always opportunity to work on a variety of projects and to learn more skill with lots of patience from our supervisors. We were also rewarded for doing well, which is a great confidence booster that allows for better performance.", said Mollohan.
Current students in the program include Alana McLain, a sophomore in Agricultural Economics, and Ryan Nelson, a freshman in Agribusiness. The students work on budgets from 105 counties throughout the state and comparing expenditures in selected categories to compare figures with historical data to measure performance. Those budgets are then resubmitted for revision and approval by OLG professional staff before distribution of the analytical report back to extension agents working within the client counties.
"All of this goes to extension agents that help make programs that benefit people in their counties, and I think this is a really big part of people's lives on a day-to-day basis, from the sales tax they pay at the grocery store to school education programs," said McLain.
The Office of Local Government strives to teach their student workers what it is like to work in a professional environment, where being precise and accurate in the work you do is important. "You have to be precise with what you are doing, you have to try to go for zero errors and that can be challenging sometimes because if you have one mistake, you have to go through the whole budget to find where you messed up," said Nelson.
The students work with sensitive information, which is consolidated into a booklet and placed online for public use and access. The booklet and other information, gives more detailed information about what a budget change means to the general consumer. The information supports local officials make fiscal decisions and educates the citizens of local communities to become more informed as consumers.
"I think it's important to look and see what the Office of Local Government actually does. They go through all of this data and make charts and you can go back and see how it affects your home county, your friends and family," said Nelson.
The Office of Local Government is a tightknit group that sets its students up for success after they graduate, not only in their careers, but in life. Students are encouraged to hold themselves to a higher standard, in their work and in their office environment.
McLain said, "I think it is really important, especially for students, to find a job that is going to give them some professional experience even if it is just working in a grocery store, I think putting a level of professionalism into what you do on a day-to-day basis is important, not only in an office like this, but in every student job, and that is something that is really encouraged here."


The Center for Risk Management Education and Research
The Center for Risk Management Education and Research (CRMER)continues with great momentum into its fourth year this spring. Since the start of 2016 the Center for Risk Management Education & Research witnessed substantial growth, including welcoming the largest class of Student Fellows in program history. The new class is comprised of 24 undergraduate and graduate students from across eight different majors. The Center continues to deliver high quality educational experiences as it hosts more than seven industry guest speakers on campus this spring semester and facilitates various industry visits around the country for Student Fellows to learn direct risk management practices from industry leaders. The current class of Student Fellows is looking forward to a trip to Washington D.C. this May to meet with several risk management experts working in the D.C. metropolitan area.
Student-led applied research is another integral part of the educational experience for the Student Fellows of the Center. Four new research projects will be completed by May of 2016, adding to the seven research projects already completed by Student Fellows since the program's inception in 2013. The Center for Risk Management Education and Research would like to thank the industry sponsors and faculty members from the Department of Agricultural Economics who helped coordinate these research projects.
The Center for Risk Management Education and Research is also preparing to add 11 new members to its growing group of alumni Fellows as the third class of Student Fellows prepares to graduate this May. Graduates who successfully complete the requirements of a Student Fellow now also receive a notation on their transcripts to acknowledge this achievement. More than half of the graduating class of Student Fellows have already secured full time positions at an impressive line of employers including Deloitte Consulting, ADM, and Cerner. The Center wishes all of these Student Fellows the best of luck as they enter the workforce.
For more information about the Center for Risk Management Education and Research please visit our website at k-state.edu/riskmanagement.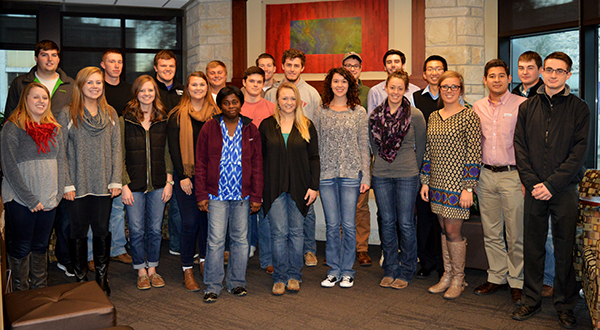 Current and Former Students Recognized with Scholarships and Awards
Several Agricultural Economics and Agribusiness alumni, recent graduates and current students have been recognized with scholarships, awards and as valued members within their respective organizations on campus.
Jill Arensdorf was selected as this year's recipient of the Richard E. Mistler Outstanding Blue Key Alumni Award. Arensdorf graduated from K-State with a Bachelors in Agricultural Economics, got her Masters at Texas A&M in Agricultural Education and Leadership and then received her Doctorate from K-State in Curriculum and Instruction. Arensdorf is currently an associate professor at Fort Hays State University and was chosen because she models a true commitment to service, leadership and scholarship and is committed to developing student leaders.
Emily Harris, a recent graduate, was asked to be the Reflections Speaker at the College of Agriculture Commencement ceremony and Kurt Lockwood, also a recent graduate, was asked to give the Student Address at Commencement as well.
Garrett Kays, former Agricultural Economics undergraduate student, was awarded the John "Tom" Muir Alpha Tau Omega Blue Key Leadership Scholarship. The Muir Scholarship is named in honor of two brothers and K-State Alumni, William Muir, Blue Key 1939 Member, and John Muir, Blue Key 1940 Member. The scholarships are awarded by a joint committee of K-State's Deans of Students, an officer of the Alpha Tau Omega Students' Aid Endowment Fund and a member of the Muir Family, with input from Blue Key advisors.
Coleman Forst, sophomore in Agricultural Economics, Lauren Budenski, sophomore in Agribusiness, and Emily Zwick, sophomore in Agricultural Economics, received Faculty-Led Program Scholarships for Ireland. Zwick was also recognized by the Pre-Law advising office as a new member of the Pre-Law Ambassadors and Bret Gum, an Agricultural Economics major, was recognized by the organization as a returning member.

For more information about the Department or this e-newsletter, please contact Tom Reust at 785.532.6994 or tomreust@ksu.edu.