E-Newsletter Archives
Use the following links to jump to a specific issue of these archives.

Spring 2015 E-Newsletter
View this E-Newsletter as a PDF or the E-Mail version.
A Note from the Desk of Allen Featherstone
New Faculty Members
Terry Griffin
Elizabeth Yeager
Undergraduate Student News
Justine Floyd Recognized for Enhancing Multiculturalism and Diversity on Campus
Halli Wigger Earns Delegate's Choice Award at the 55th MMUN Conference
New College of Agriculture Ambassadors Include Eight from Department of Agricultural Economics
Agricultural Economics and Agribusiness Club News
NAMA Chapter News
Graduate Student News
Department Hosts Three Zamorano Interns
Graduate Student Achievements
GSAE Club Update
Faculty News
Nathan Hendricks Earns Emerging Scholar Award from SAEA
Bryan Schurle Receives Mugler Award
Christine Wilson Completes FSLI Program
Christine Wilson Named Faculty of the Semester
Amanor-Boadu and Dalton Earn Promotions
Grants Announced to Support Economic Growth for Rural Communities
Alumni News
Corey Fortin
John Niemann
Josh Roe
Wayne Stoskopf
Matt Wolters
Jake Worcester
Department News
K-State Farm Bill Team Reaches More Than 4,000 Kansans
Program of the ACCC Celebrates 20-year Milestone
Master of Agribusiness Program Event: Risky Business!
This Year's Risk and Profit Conference to Focus on Drought
Save the Date for the Scholarship & Tailgate Weekend: September 18 & 19
Foundation Update: Q&A with Fred Delano
Other Articles of Interest By or About our Agricultural Economics Faculty, Alumni and Students

A Note from the Desk of Allen Featherstone
As we fly through April, we are preparing to send an outstanding class of students to the "real world". This spring has brought continued success to our department. Our undergraduate students have a 98 percent employment rate with an average starting salary of nearly $45,000 for our department.

New Faculty Members
Terry Griffin
He's seen his share of the Midwest by growing up in Arkansas, working at the University of Illinois and studying for his doctorate in Indiana. Now, Terry Griffin has joined the Kansas State University Department of Agricultural Economics as an assistant professor and cropping systems economist.
Elizabeth Yeager
A familiar face will be seen re-circulating the hallways, although this time as part of the Department of Agricultural Economics faculty, rather than as a student. Elizabeth Yeager, a department alumna, joined the faculty as an assistant professor in January.

Undergraduate Student News
Justine Floyd Recognized for Enhancing Multiculturalism and Diversity on Campus
Justine Floyd, senior in agribusiness, received the Commerce Bank Presidential Student Award for Distinguished Services in Enhancing Multiculturalism at Kansas State University.
Zelia Wiley, assistant dean of diversity and director of diversity programs in the College of Agriculture, nominated Justine for the award, which was established in 1997 to recognize outstanding individual contributions to diversity enhancement.
Halli Wigger Earns Delegate's Choice Award at 55th MMUN Conference
One Kansas State University student brought home outstanding recognition from the 55th Midwest Model United Nations (MMUN) Conference. Halli Wigger, freshman in agricultural economics from Troy, Kansas, earned the delegate's choice award at the conference, which is an all-collegiate event where students work with pressing international issues.
New College of Agriculture Ambassadors Include Eight Students from Department of Agricultural Economics
On February 24, 2015, 34 Kansas State University College of Agriculture students joined the ambassador team. Newly selected department students serving as ambassadors are Nolan Allison, Eureka; Coleman Forst, Marysville; Abigail Horn, McCoy, Colorado; Anna Setter, Humboldt; Kristin Stiebe, Kinsley; Halli Wigger, Troy; and Youwei Yang, China; and Rachel Zimmerman, Ulysses.
Agricultural Economics and Agribusiness Club News
The Agricultural Economics and Agribusiness Club's current officers are
Michael Porter, president;
Nick Wineinger, vice president;
Cody O'Brien, secretary;
Shannon Maxwell, treasurer;
Casey Thyer and Nathan Smart, membership co-chairs;
Bryan Otott and Lucas Sudbeck, social co-chairs; and
Ryan Goetzmann, Ag Council representative.
NAMA Chapter News
The Kansas State University National Agri-Marketing Association (NAMA) is an organization dedicated to the professional development of its members.
The club meets twice per month to discuss marketing tactics as well as help members prepare for their future careers. There is also a team that develops a marketing plan for a new agricultural product selected in the fall. The marketing plan is presented in the Student Marketing Competition at the national NAMA conference in April.

Graduate Student News
Department Hosts Three Zamorano Interns
Zamorano University, located just outside of Tegucigalpa, Honduras, is 2,500 miles from Kansas State University, equivalent to 47 hours by car or 11 hours by plane. For graduate interns Ricardo Auz, Ecuador; Lauren Benavidez, Nicaragua; and Paul Leiva, Honduras; the trip to Kansas has been well worth it.
Graduate Student Achievements
GSAE Club News
Graduate Students in Agricultural Economics (GSAE) is an organization which promotes the academic, professional and social interests of all graduate students majoring in agricultural economics at Kansas State University.
The organization consists of more than 30 active members who meet once a month to discuss development opportunities, plan social events and establish professional relationships. In addition to monthly meetings, the GSAE hosts bi-weekly social events, monthly breakfast socials with the Agricultural Economics faculty and staff and hosts brown bag seminars.

Faculty News
Nathan Hendricks Earns Emerging Scholar Award from SAEA
The Southern Agricultural Economics Association (SAEA) awarded Nathan Hendricks, assistant professor in K-State's Department of Agricultural Economics, the Emerging Scholar award for 2015.
Bryan Schurle
Bryan Schurle was announced as this semester's recipient of the Mugler Outstanding Teaching Award.
Christine Wilson: Completion of Food Systems Leadership Institute through the Association of Public and Land-grant Universities
The Association of Public and Land-grant Universities honored Christine Wilson, professor in agricultural economics, for completing the Food Systems Leadership Institute's (FSLI) Executive Leadership Development Program along with the 21 other fellows in her institute cohort.
Christine Wilson
Christine Wilson was announced as this semester's recipient of the College of Agriculture Faculty of the Semester for Spring 2015.
Agricultural Economics Faculty Earn Promotions
Kansas State University faculty promotions include 30 faculty members to the rank of associate professor with tenure, 31 faculty members to the rank of full professor, one faculty member to the rank of clinical associate professor and two faculty members were granted tenure. Two of these campus promotions were awarded to department faculty. Promotions and tenure go into effect at the beginning of the 2015 fiscal year on June 8.
President Kirk Schulz and Provost and Senior Vice President April Mason will congratulate all newly tenured and promoted faculty members at a reception this spring.
Grants Announced to Support Economic Growth for Rural Communities
Kansas State Agricultural Economics faculty Receives $2.5 Million with Five Projects
Funding from the U.S. Department of Agriculture's (USDA) National Institute of Food and Agriculture (NIFA) is expected to assist communities and regions in creating self-sustaining, long-term economic development through research and strategic planning.
Nearly $14 million in grants was awarded. Three agricultural economists at Kansas State University and a fourth at Purdue University who will join the K-State department later this year, received more than $2.5 million of those grant dollars to promote rural community development, economic growth and sustainability.

Alumni News
Corey Fortin
Corey Fortin, 2006 graduate, received the Alumni Association's Distinguished Young Alumni award for 2015.
John Niemann
John Niemann, 1993 BS Agribusiness, was just announced As the College of Agriculture Outstanding Young Alumnus.
Josh Roe
The Kansas Department of Agriculture hired Josh Roe, 2003 graduate, as an assistant secretary to Jackie McClaskey, Secretary of Agriculture, in February.
Wayne Stoskopf
Kansas Senator Pat Roberts announced Wayne Stoskopf, 2010 agribusiness graduate, as one of his senior staff selections. Stoskopf was named to the Professional Staff position for commodities, crop insurance and dairy on the Senate Committee on Agriculture, Nutrition and Forestry.
Matt Wolters
Matt Wolters, 2003 graduate in agricultural economics, was selected as one of five Leaders of the Year for 2015 by the Huck Boyd National Institute for Rural Development. Efforts in outreach, innovation and service leadership determine the recipient for each of the five categories: agribusiness, business and entrepreneurship, community service, multicultural diversity and tourism, hospitality and retail.
Jake Worcester
Jake Worcester, 2001 graduate of agricultural economics, left his position as assistant secretary at the Kansas Department of Agriculture to join the 4-H Foundation as the new President and CEO. He is stationed in Manhattan, where his role with the 4-H Foundation began March 2.

Department News
Department Updates: K-State 2014 Farm Bill Team Reaches more than 4,000 Kansans
Farm producers and ranchers are facing many decisions regarding the Agricultural Act of 2014, also known as the 2014 Farm Bill.
To help with this decision-making process, K-State Research and Extension held meetings throughout the state in January and February. Recordings of presentations are available online.
ACCC Conference Celebrates 20-year Milestone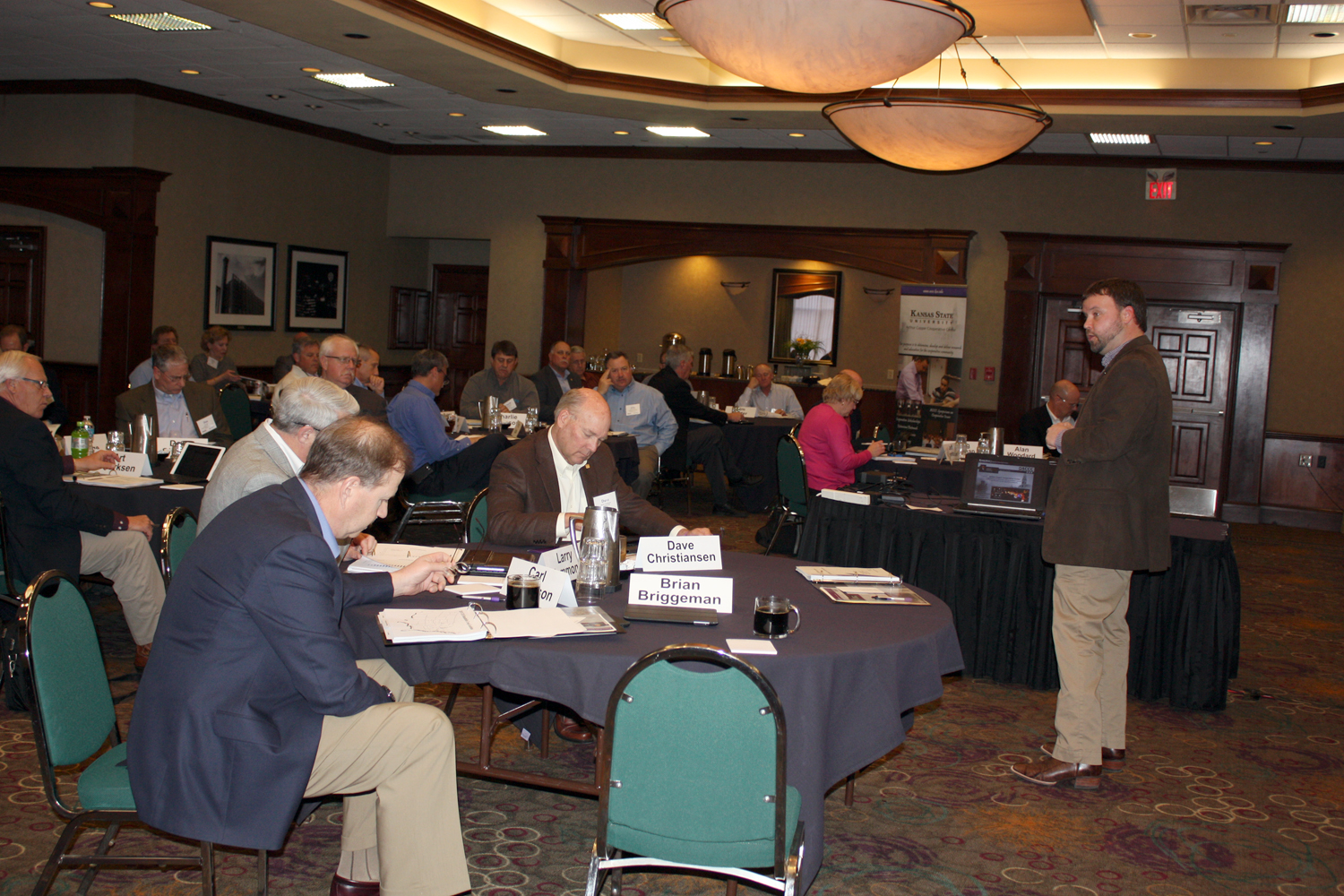 The CEO Roundtable for Cooperative Managers celebrated its 20th anniversary in March with another strong program. In 1995, then Arthur Capper Cooperative Center Director, David Barton, professor emeritus, was approached by local cooperative managers about creating a new educational program for cooperative CEOs. He saw this as an exciting opportunity and reached out to Russ Nelson of CoBank who agreed to partner, and the CEO Roundtable was launched in 1996. The focus of the program has remained on providing these CEOs an educational opportunity where they can learn from industry experts, learn from each other, network and further develop as leaders of progressive, successful local cooperatives.
Master of Agribusiness Professional Development Event: Risky Business!
The Master of Agribusiness (MAB) program is pleased to announce the dates for its 7th Professional Development and Alumni Reunion Event. The event, "Risky Business: Managing Risk," will be Sept. 17-19, 2015 in Manhattan, Kan. The event will include sessions on multiple angles in managing risk and possible tours of the K-State campus, Biosecurity Research Institute (BRI) and O. H. Kruse Feed Technology Innovation Center, as well as the opportunity to network with classmates and industry partners. It will also include a pre-game tailgate before the K-State vs. Louisiana Tech football game on Saturday, Sept. 19.
2015 Risk and Profit Conference Focuses on Drought
The annual Risk and Profit Conference is scheduled for Aug. 20-21, 2015, at the K-State Alumni Center. The focus of the conference will be drought and water.
One of the featured speakers is Elwynn Taylor, a professor from Iowa State University.

Save the Date for the Scholarship Banquet & Tailgate Weekend: September 18 & 19

KSU Foundation Fund Spotlight
Agricultural Economics Emeritus Faculty and Friends Scholarship fund – A Q&A Session with Fred Delano
The Agricultural Economics Emeritus Faculty and Friends Scholarship (EFFS) fund is established by departmental emeritus faculty to provide scholarships for graduate students or prospective graduate students, or undergraduate student admitted to the graduate program in agricultural economics at Kansas State University whose graduate program benefit the Kansas agricultural economy.

Upcoming Events

Other Articles of Interest By or About our Agricultural Economics Faculty, Alumni and Students

For more information about the Department or this e-newsletter, please contact Amanda Erichsen at 785.532.6994 or aerichsen@ksu.edu.
Article contributions by: Amanda Sales, Communications Assistant, Sophomore in Agricultural Communications & Journalism; and Elaine Edwards, K-State Research and Extension News Media Services.
---

Fall 2014 E-Newsletter
Jorge Gattini, Paraguay's Minister of Agriculture, delights K-State with campus visit
Introducing Ben Schwab
Summer Internship summary
2014 Scholarship recipients
New class of Risk Management Student Fellows
Lynes attends fifth Lindau Meeting
Andrew Barkley's new book
Office of Local Government market approach to pollution reduction
MAB program and staff awarded honors
Farm Bill meetings led by Mykel Taylor and Art Barnaby
Upcoming events
Gifting opportunities

From the Desk of Allen Featherstone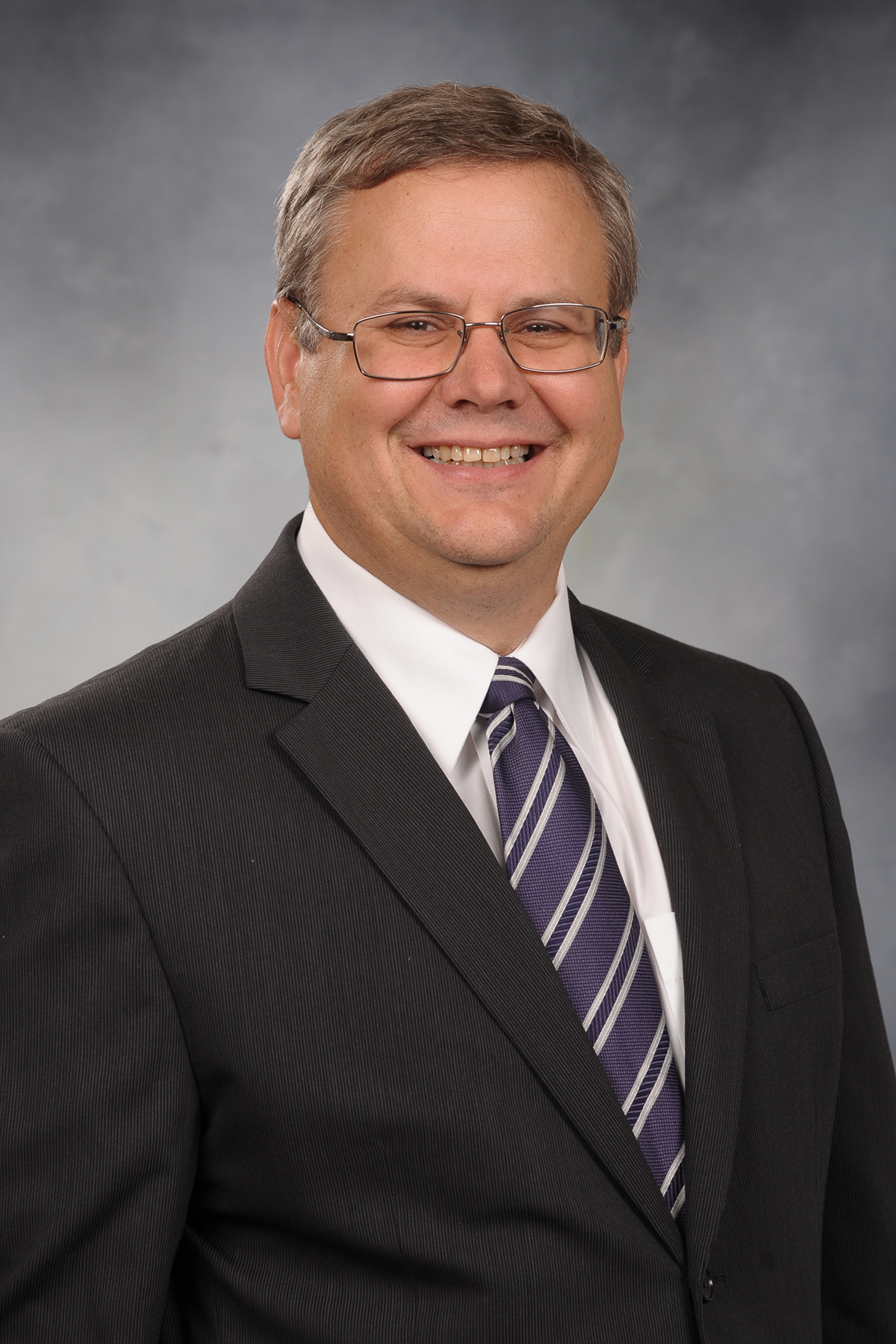 The fall semester 2014 has certainly quickly passed. As we wrap up the fall semester, we want to bring you up to date on Departmental activities. First of all, we would like to thank the many faithful and dedicated alumni that provide scholarships to our undergraduate and graduate students. During the last year, the Department was able to provide in excess of $250,000 in scholarships to our well deserving students. As tuition continues to increase and as the number of undergraduate majors continues to increase, scholarships are certainly an important mechanism that many students use to further their education. The Departments appreciates your generosity.
During the fall semester, we were pleased to welcome Jorge Gattini back to campus to allow him to interact with our students. Jorge Gattini originally came to Kansas on a 4-H exchange program, came back to Kansas State University to receive his master's in Agricultural Economics, and now serves as Minister of Agriculture in Paraguay. Mr. Gattini is responsible for formulating and executing agricultural policy for the country of Paraguay where agriculture ranges all the way from subsistence to precision agriculture that is competitive on the global scale.
Transition continues to occur as Dr. Arlo Biere and Dr. Joe Arata will retire at the end of the semester. They have both left a lasting legacy on the Department and will certainly be missed. We thank them for the many years of service to the State of Kansas in educating future generations of Agricultural leaders. We will be welcoming Dr. Elizabeth Yeager to the staff. She will be joining us from a faculty position at Purdue University and will teach in the undergraduate program in the areas of farm management, agricultural finance, and grain and livestock marketing.
I encourage you to examine a taste of the many other exciting developments in the Department. We would love to hear about your career and family developments and share them in upcoming issues of our quarterly E-Newsletter. Please email me at afeather@ksu.edu or Amanda Erichsen, our communication coordinator, at aerichsen@ksu.edu with information you would like to share with your fellow alumni.
Go Cats!
Dr. Allen Featherstone, afeather@ksu.edu
Department Head, Professor, Master of Agribusiness Program Director

Jorge Gattini, Paraguay's Minister of Agriculture, delights K-State with campus visit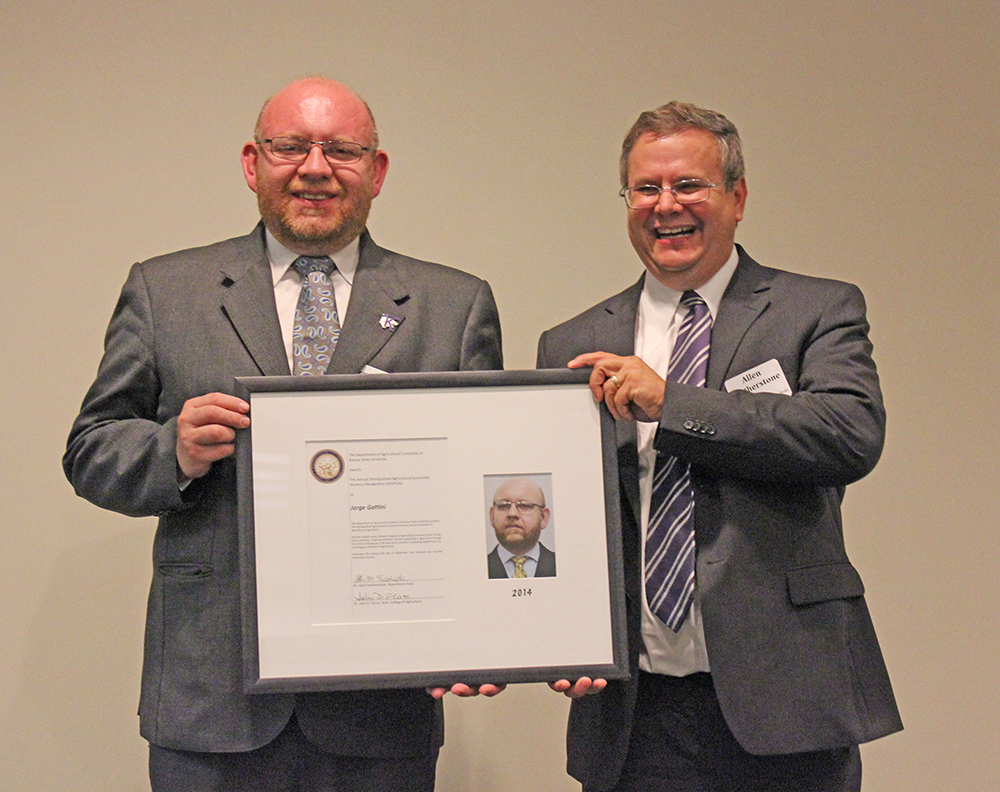 History was written this year in the Department of Agricultural Economics at Kansas State University. For the first time, a Minister of Agriculture received the department's Distinguished Alumni award. This year's recipient, Jorge Gattini, is Paraguay's current Minister of Agriculture, and a 1998 alumnus of our department.
Jorge Gattini arrived in Manhattan Sept. 24, to reconnect with his former professors and accept his award Sept. 26. Gattini credits his successes as the Minister of Agriculture to his education at K-State, saying, "I am sure that if I were not a student here at Kansas State University, I would not be a Minister of Agriculture. I met the President [of Paraguay] two days before he appointed me, but he says he chose the best that he can get. I think K-State gave me the skills that helped develop my professional career."
Gattini was no stranger to agriculture prior to his venture to Kansas. As an adolescent, Gattini lived on a ranch working in the fields, and learning to love the lifestyle. He moved back to Asuncion, the capital city of Paraguay, when he was 17. He then discovered the 4-H program's partnership between Paraguay and Kansas State University. That was the first time Gattini came to Kansas, as an undergraduate student of K-State. He was back in Paraguay for a few years before returning to Kansas at the age of 25, this time to complete a master's degree in the Agricultural Economics program.
"I had the pleasure of having Gattini as a Masters student, as I was his adviser," said Allen Featherstone, agricultural economics department head. "I still have a copy of his final paper over the Economic Credit System in Paraguay… I'll have to talk to him to see if he has followed through with his recommendations in his paper. Jorge was an outstanding student, he was inquisitive. It certainly shows what anyone can do if they put their mind to it."
Following Gattini's graduation from K-State, he returned to his home country and began working as a financial consultant in the government. A few years after leaving that job, Gattini had his next big achievement when the president of Paraguay, who hardly knew Gattini at the time, appointed him as the Minister of Agriculture. In this position, Gattini strives to keep small-operation farmers in Paraguay afloat in the economy. He said, "Our main challenge is to develop modern technologies for small farmers."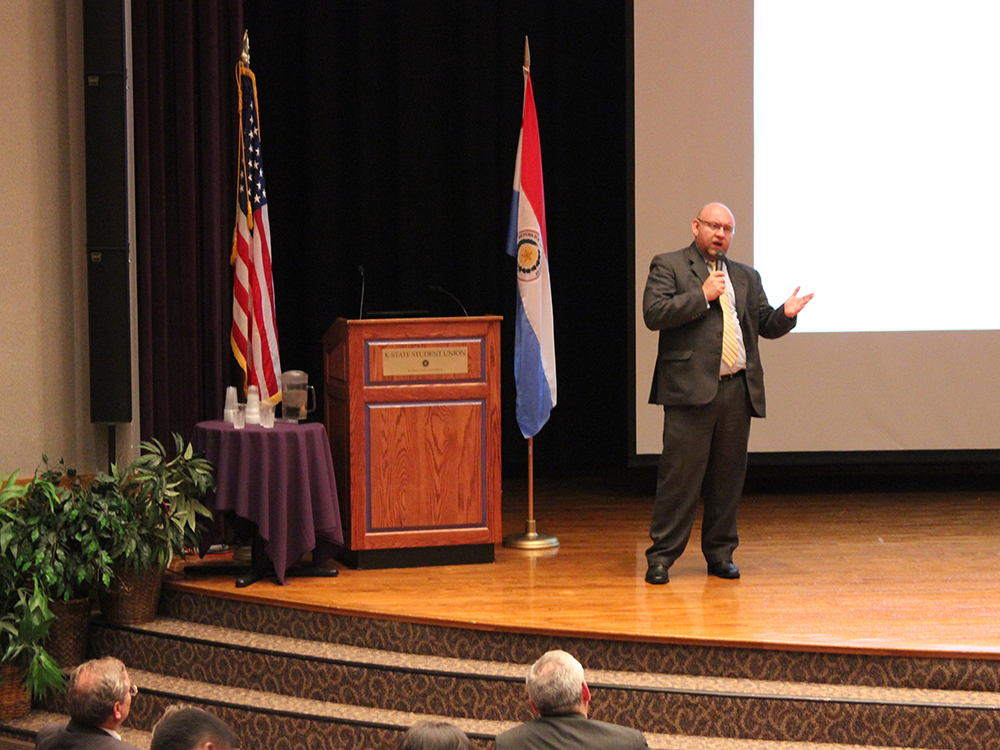 The Department of Agricultural Economics hosted a scholarship and alumni banquet Sept. 26 that recognized Gattini for all his efforts, along with 70 agricultural economics students that earned scholarships. "The banquet is a great opportunity to recognize our students in the department for their accomplishments and hard work, and it is a great time to recognize our alumni, especially this year's distinguished alumnus, Jorge Gattini," said Amanda Erichsen, the department's communications coordinator. "It's a great time for everyone to interact together."
Several faculty and staff members of the agricultural economics department meet early in the year to determine who will be selected as the distinguished alumni. Criteria of the award include proactive actions to make a difference in a community or enacting programs that influence the well- being of others.
"It's a great opportunity to have one of our alumni that is in such a high-level decision making process and using his education to help him think through certain difficult situations in his career," Featherstone said, of having Gattini receive the award.
Though Paraguay is a top exporter of many crops, the agriculture industry of the country still keeps farmers fearing poverty daily. Gattini lectured Sept. 24 in the K-State Student Union's Forum Hall regarding this issue. He spoke about the statistics of the difficulties of agriculture in Paraguay and how he envisions working with K-State to create tailor-made programs to bring back to Paraguay.
He also convened with many other departments during his visit, including the offices for diversity and international outreach.
He said he plans to return to Manhattan more, as the partnership between Kansas State University and Paraguay continues growing. Gattini is proud of where he is now, and summed up the feeling of receiving the award as being very exciting.
Top Right: Gattini stands with Allen Featherstone, department head, holding the plaque that will hang in the hallway of Waters Hall. Middle Right: Gattini addresses the agricultural situation in Paraguay at his Sept. 24 lecture. Bottom: Gattini gives thanks for his award at the Scholarship Banquet on Sept. 26.

Introducing Ben Schwab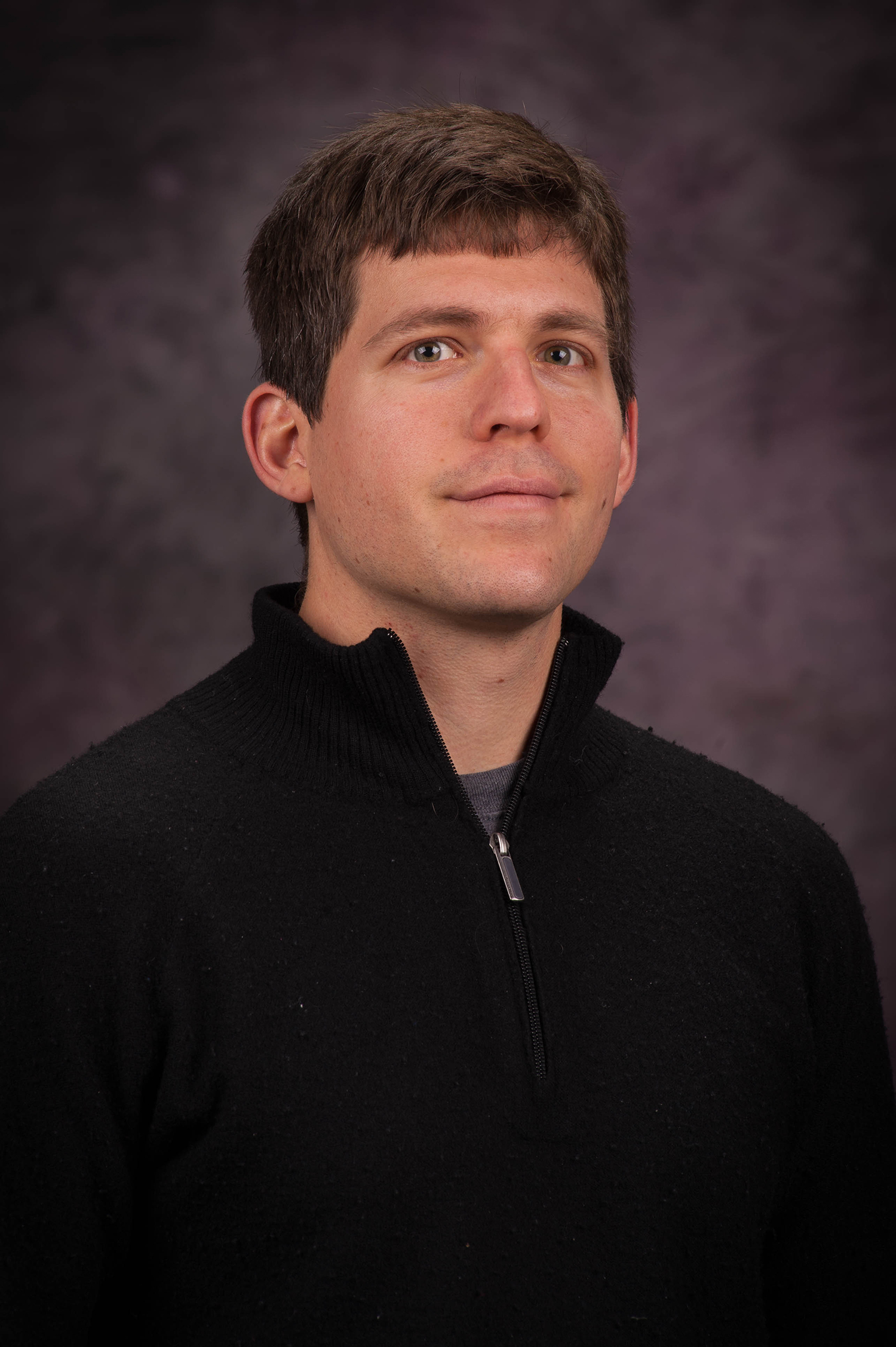 Ben Schwab joined our department as assistant professor in July 2014. He grew up in southern New Jersey and earned his bachelor of art's degree in economics and Middle Eastern studies from Rutgers University, and his masters of art's and doctoral degrees in agricultural and applied economics from the University of Wisconsin-Madison. Schwab's research focuses on international development, health and nutrition. While at Wisconsin, he was a National Institute for Mental Health (NIMH) trainee in Health Economics and wrote his dissertation on the adoption and impact of vitamin D fortified milk. Before joining the faculty at K-State, Schwab worked at the International Food Policy Research Institute (IFPRI). At IFPRI, his research centered on the design and implementation of large scale evaluations of international development projects in East Africa and the Middle East.
With much of my research centered on international issues, the University's orientation towards Global Food Systems was a major attraction for me. The four Innovation Labs recently awarded from USAID's Feed the Future program demonstrate the abundance of expertise on global food topics in the College of Agriculture. For a young researcher, that critical mass of talented people working on related topics is quite helpful. This department not only has great professors conducting leading research in their fields, but also an astoundingly collegial environment. From my short time here thus far, I've been very pleased with the atmosphere here. Schwab is currently teaching AGEC 615, Global Agricultural Development.

2014 Summer internship summary
From Brazil to Colorado to Texas and right back here in the heart of the United States, eight students from the Kansas State University Department of Agricultural Economics embarked on memorable internships during the summer of 2014. The students utilized their education in a variety of industry sectors including agricultural lending, bioenergy, grain, livestock and machinery.
Many of the companies these students interned with operate on a global basis and work with a diverse set of commodities. The students applied their education through research, hands-on work, office work and stepping into leadership roles.
| | | |
| --- | --- | --- |
| | | Katie Campbell spent her summer based in Colorado. She interned at the North American Limousin Foundation (NALF) under the director of activities. Campbell's responsibilities included planning three regional shows and the Jr. National show. In order to plan these shows, she organized entries, and put together show books and packets. Campbell believes the biggest lesson she took from the summer is the ability to multi-task on big projects and conduct herself in a business setting. |
| | | |
| --- | --- | --- |
| | | Frederick Kerr traveled south, to Plainview, Texas, where he worked with cotton, a crop new to his repertoire. Duties of Kerr's internship with Monsanto varied from working in the seed testing lab to updating the company's operating procedures. He was also able to get out in the field to survey the cotton. Kerr valued his internship because he was able to get hands-on experience and he developed better interpersonal skills that he hopes will help him in his career. |
| | | |
| --- | --- | --- |
| | | Pedro Masi traveled to Brazil to spend his summer at Agro.Icone researching bioenergy in different scenarios. One component of bioenergy involved the use of palm oil produced in northeastern Brazil as a source of energy. Masi also looked at bio-ethanol production occurring in Mozambique and soybean sustainable production in south-central Brazil. He researched profit objectives, costs and prices on each of the three projects. Increased patience and perseverance were the biggest rewards of the experience, says Masi. |
| | | |
| --- | --- | --- |
| | | Arissa Moyer interned in Pratt, Kan., at High Plains Farm Credit. Her experience involved various tasks including working with credit, appraisal, crop insurance, operations, finance, accounting and technology. Moyer says some of the things she learned could never have been taught to her through coursework. She learned to work through loan documents, analyzed financial statements and completed a field report. Overall, she built a basic knowledge of diverse agriculture operations. |
| | | |
| --- | --- | --- |
| | | Kooper O'Brien got a taste of the corporate life during the summer in his internship at Agrex, Inc. The company does commodity trading that deals with grain, oilseeds, feed ingredients, hay and other food ingredients. O'Brien saw the entire process from origination to marketing to finance and logistics. He also really enjoyed the opportunity to get some hands-on work as a commodity merchandiser. O'Brien hopes to apply some of these new skills in his classes. |
| | | |
| --- | --- | --- |
| | | Jake Ohlde did not spend very much time in the office. Ohlde found himself in the agronomy and grain units of MidKansas Cooperative during the summer, instead. Some of his responsibilities were to monitor weed populations in the fields, take soil samples, maintain the elevator, and document truckloads of wheat. The cooperative services 15 Kansas counties with 38 grain elevator locations. Ohlde believes the experience he had cannot be taught in a classroom. |
| | | |
| --- | --- | --- |
| | | Taylor Peterson didn't work with too many numbers during the summer. Her internship at John Deere in Olathe, Kan., was in the Media Relations Department. Her position dealt with writing news releases, coordinating a media event for a product introduction, and updating the dealer price books and kiosk systems. Peterson says that learning communication skills with customers, coworkers and media personnel are better learned in the professional world than in a classroom. She also gained a lot of perspective on professionalism and building a brand. |
| | | |
| --- | --- | --- |
| | | Sebastian Silvera interned with the Cotton Distributors, Inc., as a cotton trading trainee. His responsibilities included proofreading contracts, and calculating average prices and logistics. He was also able to visit producers in Bahia, Mato Grosso and Mato Grosso do Sul, which are states of Brazil. Silvera believes that the best part about the experience was being able to work in a different country because it allowed him to view business in a different setting. His internship was unpaid, and Silvera says these types of internships can still be beneficial because the professional skills gained pay off in the future. |
Derek Betcher, marketing manager for John Deere in Moline, Ill., supervised Taylor Peterson's internship in the Rental Marketing department in the summer 2013.
"Taylor came to John Deere with good work habits, an engaging, outgoing personality, and energy for representing the brand with a great balance of warmth and professionalism," Betcher said.
He added that she grew in many areas including customer relations, "Analytical skills and Excel proficiency are two areas I think she grew the most."
Betcher offers the following advice for students, "What you know is a great foundation, but how much you care about your work and your co-workers is probably an even bigger early career differentiator."
He concluded that his division has hosted multiple K-State students during the past two years and they have been consistently high quality, ready to work and easy to engage with.
A few of the learned skills that the students attributed to their internship experiences include confidence, motivation, strong work habits, and skills that transfer between companies. The students shared the following advice to fellow undergraduates about how to grab ahold of a beneficial internship.
It is important to realize that no one is ever too young for an internship; attending all of the career fairs can open a lot of unforeseen doors. Setting up interviews with employers at the fairs is a great idea because it makes each following interview a little easier, which can lead to stellar interviewing skills following graduation.
These students are just eight of our many students that complete internships. For more pictures and quotes from the students, and information about the companies our students interned with, visit our student internship page.
More testimonials from these students can be found on the department's internship experience page.

Congratulations to this year's scholarship recipients!
View the full list of this year's scholarship recipients.

K-State Center for Risk Management Education and Research announces a new class of Student Fellows
The Kansas State University Center for Risk Management Education and Research has announced its third class of student fellows. The center works to enhance the understanding of economic risks inherent in the global society through experiential education and research.
The 18 students selected for this class represent both undergraduate and graduate levels and include:
Dustin Aherin, master's student in animal science and industry, Phillipsburg, Kansas
Cheyanna Colborn, public relations, Iola, Kansas
Christa Deneault, mathematics/economics, Concordia, Kansas
Ryan Goetzmann, agricultural economics, Gardner, Kansas
Adam Hancock, master's student in agricultural economics, Indianapolis, Indiana
Emily Harris, agribusiness, Abilene, Kansas
Brady Heidrick, finance and accounting, Olathe, Kansas
Pedro Masi, agricultural economics, Asuncion, Paraguay
Christa McKittrick, finance and accounting, Mission Hills, Kansas
Claire Newman, master's student in agricultural economics, Auburn, California
Cody O'Brien, agribusiness, Cherryvale, Kansas
Samuel Power, finance and accounting, Lenexa, Kansas
Nicholas Scherrer, economics, Overland Park, Kansas
Jayce Stabel, agronomy, Lakin, Kansas
Kylie Sturgis, public relations, Wilcox, Nebraska
Tucker Styrkowicz, bachelor's and master's student, industrial engineering, Leawood, Kansas;
Lucas Sudbeck, agricultural economics, Seneca, Kansas
Morganne Wiltse, agribusiness, Wichita, Kansas
"This is another stellar class of talented and accomplished student fellows. They will be a great group to work with," said Ted Schroeder, director of the center and professor in the Department of Agricultural Economics. "The new student fellows will experience guest lectures and industry visits, conduct student research projects and receive tremendous interest from industry leaders."
The new student fellows begin their program in January 2015.
By providing students and business professionals with the information and tools necessary to identify, quantify and manage risk, the center complements K-State's strategic plan. Additionally, the center supports the greater university mission of advancing the well-being of the state of Kansas, the United States and the international community.
| | | |
| --- | --- | --- |
| | | Shown at left are the attendees of the fall 2014 Risk Management Center advisory council meeting, including current student fellows to share their experiences with the council members. |

Lynes attends Fifth Lindau Meeting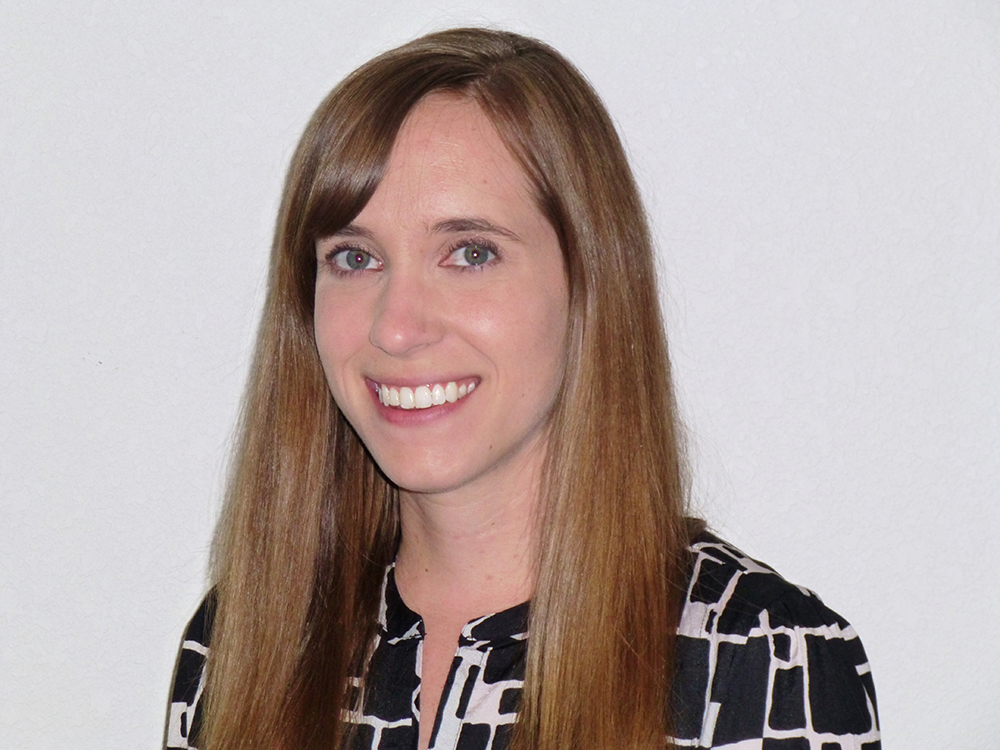 Picture the Bavarian countryside of Germany, the quaint little town of Fussen looking out on the Alps, bustling Munich with its Marienplatz centre, and the ancient Bavarian castles. Now imagine that the reason for exploring all of this beauty is to network with several of the most revered economists in the world. This opportunity of a lifetime became a reality for Melissa Lynes.
The brightest economic students from around the world gathered in Lindau, Germany, for the fifth Lindau Nobel Laureates meeting August 19-24. Out of 29 student delegates selected from the United States, Lynes represented Kansas State University and the Department of Agricultural Economics, where she is a doctoral student.
The Lindau Meeting is an open exchange of economic expertise that connects different generations and cultures. The heart of this year's conference was 18 laureates of the Sveriges Riksbank Prize in Economic Sciences, who addressed the delegates in formal lectures and master classes and hosted panel discussions. In addition to the laureates, Lynes heard words of wisdom from the Queen of Sweden and the Chancellor of Germany.
Though the entire student delegation consisted of 460 students from 80 countries, Lynes was the only economist in an agricultural program. "I did come across some natural resource economists from third-world countries that are focused on farms," Lynes said.
Lynes' current research in agricultural economics includes renewable energy policies such as the Renewable Portfolio Standard. She hopes to determine if policies like this increase the price of electricity and whether utility companies are operating efficiently. The outcome of the research will provide information to policy makers about the feasibility of renewable energy policies and their impact.
Jeff Williams, professor for K-State agricultural economics and advisor to Lynes, said prior to the Lindau Meeting, "Melissa Lynes is an excellent and enthusiastic researcher. She will be fully engaged in discussions with the Nobel laureates at the conference."
Lynes was not only engaged in discussions with laureates, but with other young economists at the meeting. "I wasn't sure how many people with similar interests would be there and who might be using similar methods I'm using. It was incredible seeing people doing similar things as me from all around the world," said Lynes.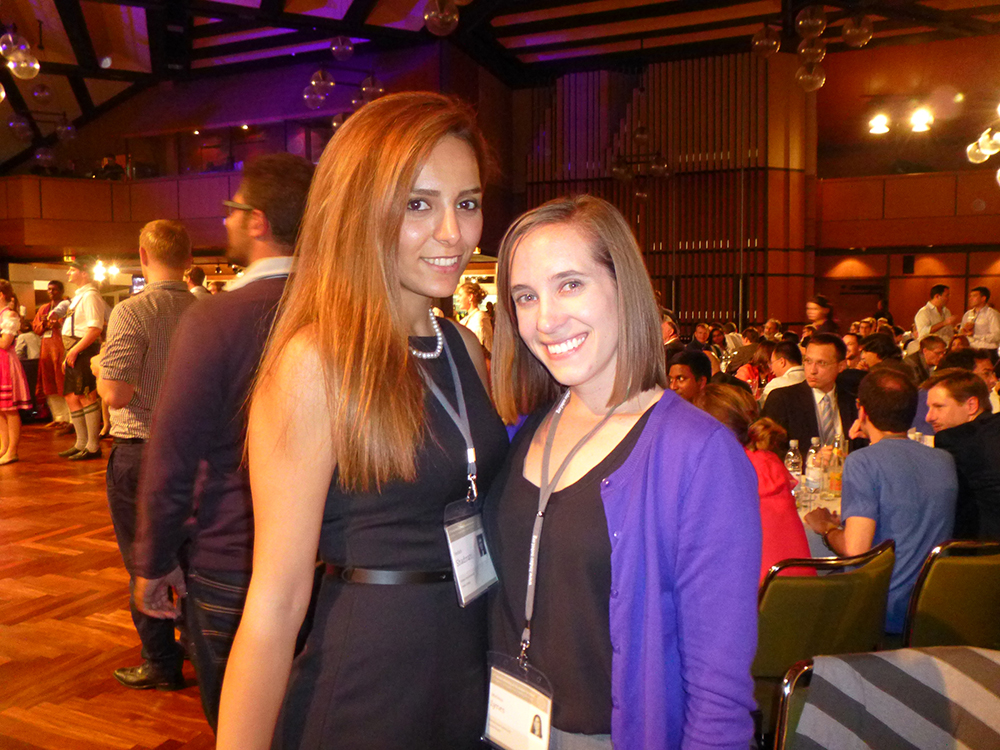 Evidence of Lynes' success in economic research is exhibited through her publication in the Journal of American Society of Farm Managers and Rural Appraisers, her forthcoming article in Renewable and Sustainable Energy Reviews, and her presentations at various conferences across the country, including the Agricultural and Applied Economics Association, International Oil Spill Conference and the United States Association of Energy Economics.
Looking back on her trip, Lynes noted the lasting connections she made with the other delegates, and she hopes to meet up with many of them again. Lynes also enjoyed the theme nights and boat trip that were part of the meeting. Theme nights embodied food, dancing and clothing traditions of many cultures, including the Bavarian region that houses Lindau. Lynes also took a boat trip out on the waters of Lake Constance, which borders several European countries.
Being selected to attend the conference is no easy ride for any applicant. "I applied in October and did not hear back until March so it was a very long time and I had to do two rounds of application," Lynes said. "I heard back from the first round in December and then applied again and heard back from the second round in March. It was a very long process and we were all anxiously waiting."